First Look: 'Frankenweenie' Short 'Captain Sparky Vs. The Flying Saucers'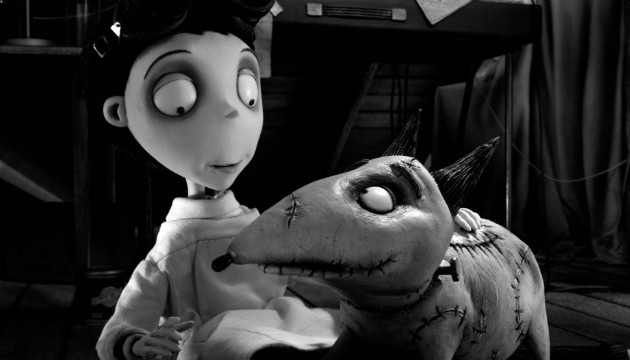 If you caught Frankenweenie this fall, you probably recall that one of Victor and Sparky's hobbies involved making adorably amateurish Super 8 films. Now one of their little home movies is about to get a real-life release. Disney has unveiled the first images from Captain Sparky vs. the Flying Saucers, a short film that will appear as a special feature on Frankenweenie's Blu-ray/DVD release. Check them out after the jump.
The images come courtesy of USA Today. One shows Sparky in a makeshift rocket, while the other has Victor and Sparky watching a reel of something.
It looks good, but Waring may be hoping it doesn't look too good. As a professional using high-end technology, Waring revealed that one of his his challenges was making Captain Sparky vs. the Flying Saucers look sufficiently amateurish and low-tech. "In the short, there are a few sections of (Victor) trying to very early use stop-frame technique," he said. "The whole thing's stop-frame, so how do you make it look more stop-frame than it actually is?"
In the end, he found that the key was to add in purposeful mistakes like shaky camerawork, ill-concealed equipment, and "all of those things to get the sense of how that would actually be if you made the film as a kid." For a young, DIY filmmaker, "mistakes would be kept in because you don't know how to change them — you haven't got a whole team of special-effects people to paint the wires out."
Captain Sparky vs. the Flying Saucers runs about two and a half minutes, and will hit when the Blu-ray/DVD does on January 8. And if you really love it, Waring says there could be more where that came from — perhaps in the form of a sequel from Tim Burton. "Everything's in place. There's a whole world waiting," he said. "If there's any chance of a Frankenweenie 2, I'm sure everybody would love it."