New 'Iron Man 3' Still Shows A Badly Damaged Tony Stark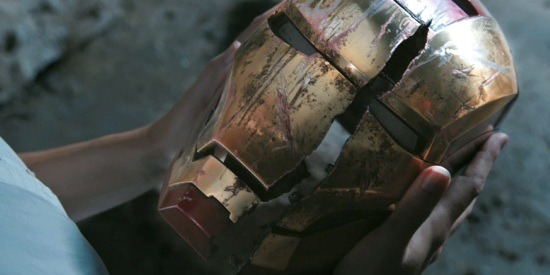 Tony Stark (Robert Downey Jr.) has been through some pretty rough stuff during his tenure as Iron Man, but he's always managed to pull through with his trademark wit and charm. The marketing materials for Iron Man 3, however, suggest that even he may find he has his limits. A new high-res image shows the titular hero looking not just bloodied and battered, but emotionally defeated as well. Check it out after the jump.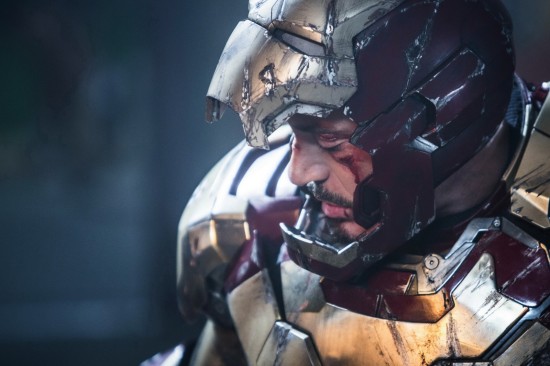 That is the face of someone who badly needs a hug. Knowing Tony (and, well, comic book movies in general), I suspect he'll eventually bounce back. But his nasty wounds and broken expression indicate that it won't be easy.
Though director Shane Black has said that Iron Man 3 is "not a serious movie," it's clear that Tony's woes cut deep. The U.S. trailer wasn't as downright depressing as the Japanese one was, but it still showed Tony struggling in the aftermath of The Avengers, and then dealing with a devastating attack on his home. Personally, I've got my fingers crossed for something like Skyfall — a really fun, energetic bit of entertainment that still manages to resonate on an emotional level.
Also starring Gwyenth Paltrow, Don Cheadle, Ben Kingsley, Guy Pearce, and Rebecca Hall, Iron Man 3 opens May 3.
Marvel's "Iron Man 3? pits brash-but-brilliant industrialist Tony Stark/Iron Man against an enemy whose reach knows no bounds. When Stark finds his personal world destroyed at his enemy's hands, he embarks on a harrowing quest to find those responsible. This journey, at every turn, will test his mettle. With his back against the wall, Stark is left to survive by his own devices, relying on his ingenuity and instincts to protect those closest to him. As he fights his way back, Stark discovers the answer to the question that has secretly haunted him: does the man make the suit or does the suit make the man?