Angelina Jolie Replaces Francis Lawrence For War Hero Biopic 'Unbroken'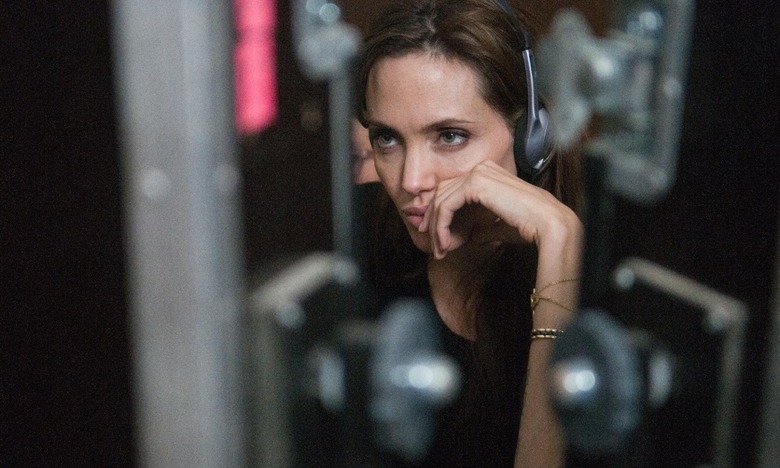 We may receive a commission on purchases made from links.
After cutting her teeth on last year's In the Land of Blood and Honey, Angelina Jolie has picked up a second directing gig in Unbroken. The biopic centers around Louis Zamperini, an Olympic track star turned U.S. Air Force officer. After his plane crashed over the Pacific during World War II, he survived for 47 days on a raft — only to get captured by Japanese forces once he reached land. He spent the rest of the war in a POW camp, suffering torture at the hands of sadistic guards.
While the project's development hasn't been quite that epic, it's got a meaty history as well. Universal has been trying to bring Zamperini's tale to the big screen for five and a half decades, or longer than the 37-year-old Jolie has been alive. Last we heard of it, Francis Lawrence was attached to direct in 2011. More details after the jump.
Universal originally picked up rights to Zamperini's tale way back in the '50s, when he published his memoir Devil at My Heels. Tony Curtis wanted to play the lead, but the movie eventually fell through. In 1998, CBS aired a profile that reignited interest in the project. Nicolas Cage was said to be interested at the time.
Since then, producer Matthew Baer has been trying to bring the story to the big screen. His efforts got a big boost when when Laura Hillebrand's biography Unbroken: A World War II Story of Survival, Resilience, and Redemption hit shelves in 2010 and planted itself on the bestseller list for 108 consecutive weeks. The studio optioned the book nearly two years ago, and now with Jolie on board the film is tentatively on track to start shooting next year. The 96-year-old Zamperini is expected to be involved in some capacity.
While I haven't read Hillebrand's book yet myself, even the quick summary version of Zamperini's ordeal is nothing short of astounding. Here's an excerpt from the Amazon book description:
Growing up in California in the 1920s, Louie was a hellraiser, stealing everything edible that he could carry, staging elaborate pranks, getting in fistfights, and bedeviling the local police. But as a teenager, he emerged as one of the greatest runners America had ever seen, competing at the 1936 Berlin Olympics, where he put on a sensational performance, crossed paths with Hitler, and stole a German flag right off the Reich Chancellery. He was preparing for the 1940 Olympics, and closing in on the fabled four-minute mile, when World War II began. Louie joined the Army Air Corps, becoming a bombardier. Stationed on Oahu, he survived harrowing combat, including an epic air battle that ended when his plane crash-landed, some six hundred holes in its fuselage and half the crew seriously wounded.
On a May afternoon in 1943, Louie took off on a search mission for a lost plane. Somewhere over the Pacific, the engines on his bomber failed. The plane plummeted into the sea, leaving Louie and two other men stranded on a tiny raft. Drifting for weeks and thousands of miles, they endured starvation and desperate thirst, sharks that leapt aboard the raft, trying to drag them off, a machine-gun attack from a Japanese bomber, and a typhoon with waves some forty feet high. At last, they spotted an island. As they rowed toward it, unbeknownst to them, a Japanese military boat was lurking nearby. Louie's journey had only just begun.