TV Bits: The Tonight Show, Hatfields And McCoys, Homeland, Dexter, Zorro, Smash, Justified, Glee, House Of Lies
Casting, spoilers and some first looks abound  in this edition of TV Bits. After the jump check out the following:
Is Jimmy Fallon the lead contender to replace Jay Leno on The Tonight Show?
Some potential spoilers for Homeland season 3 have been teased.
Star of The OC Adam Brody joins the cast of House of Lies.
History is developing a Hatfields and McCoys reality show.
When do your favorite Fox shows like Glee, The Mindy Project and New Girl return?
NBC orders new episodes of Whitney.
The classic tale of Zorro is getting a modern reimagining on USA called Z.
The stars of Dexter tease some possibly season 8 scenarios.
A first look at the second season stars of Smash.
Bernard from Lost, Sam Anderson, joins the next season of Justified.
Just to get this out of the way, both TV Line and Entertainment Weekly have some quotes from the cast and crew of Homeland teasing what could happen in season 3. As I have yet to see season 2 (Free Showtime preview in January FTW!!) I'm just going to point you in that direction.
Okay, that's a load off my mind. Back to your regularaly scheduled TV bits. First up, The NY Daily News reports NBC is quietly grooming Jimmy Fallon to take over The Tonight Show once Jay Leno's contract runs out in 2014. It's still a ways off, but this is interesting to say the least.
Adam Brody – best known for his role on The OC but who has also appeared in Cop Out, Jennifer's Body and more will join the second season of Showtime's House of Lies with Don Cheadle. Brody will play the owner of an adult-toy company. Kinky news thanks to TV Line.
History Channel had a big hit earlier this year with the Bill Paxton/Kevin Costner mini-series Hatfields and McCoys, based on one of America's most famous feuds. Now, according to Deadline, the channel has begun to develop a reality show based on the descendants of the two families.
Fox has annoucned the return dates for many of the big returning shows. Glee will be back on January 24, The Simpsons is back on January 6 along with Bob's Burgers, Family Guy and American Dad, The Cleveland Show returns January 13, The Mindy Project and New Girl come back January 8 along with Raising Hope and Ben And Kate. Finally, the new show, The Following, premieres January 21. Be on the look out for that one, it's great.
Another comedy returning soon is NBC's Whitney and, not only is it coming back, it'll have three extra episodes. According to Deadline the show will now have a 16-episode second season.
The USA Network is reportedly developing a new show called Z, which will take the myth of Zorro and update it for modern day Los Angeles. Executive produced by Naren Shankar and Louis Leterrier the show should know its fate by February. Read more over at Variety.
Back to spoiler territory, TV Line spoke with the stars of Dexter about the season seven finale and what could happen next year. Obviously, we don't want to spoil anything so head there for more.
Here's a look at the stars of the second season of NBC's Smash, which returns February 5. Thanks to TV Overmind.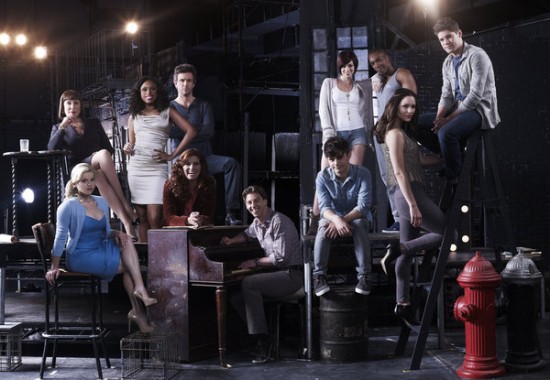 Finally, TV Line reports that Sam Anderson, best known as Bernard on Lost, has joined the upcoming season of FX's Justified. He'll play a "rugged funeral director."