Triumph The Insult Comic Dog Takes On The Cast And Crew Of 'This Is 40'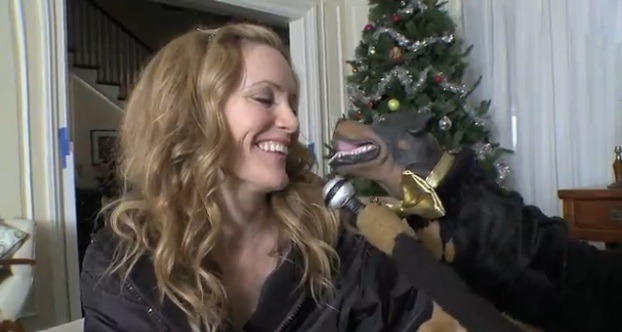 With the likes of Chris O'Dowd, Lena Dunham, and Melissa McCarthy in supporting roles, Judd Apatow's This is 40 is positively overflowing with hot comedic talents. But the film features some more established comic players as well, including Robert Smigel.
During what must've been a slow day on set, Smigel decided to bring along his old pal Triumph the Insult Comic Dog to mingle with the cast and crew, specifically Apatow, Leslie Mann, Paul Rudd, John Lithgow, and Megan Fox. The results are predictably entertaining and just a little bit painful. Watch the video after the jump.
Apatow gets the worst of it, but seems to take it in good humor. Lithgow looks slightly uncomfortable, though that doesn't stop him from appreciating a knock on hirsute co-star Albert Brooks, and Megan Fox looks downright distraught. Mostly, though, everyone just laughs along while Triumph poops on their careers. I'm just disappointed Triumph didn't get out more — I would've loved to find out what he makes of other This is 40 stars like Dunham or McCarthy.
The interviews take on an extra layer of absurdity when you keep in mind that they're just reacting to one of their co-stars brandishing a dog puppet. Fortunately for them, Smigel's actual role in the movie, as one of Pete's cycling buddies, is rather less combative and features neither an Eastern European accent nor a lipstick penis.
Also starring Jason Segel, Charlene Yi, and Annie Mumolo, This is 40 lands in theaters December 21.
Writer/director/producer Judd Apatow (The 40-Year-Old Virgin, Funny People) brings audiences This Is 40, an original comedy that expands upon the story of Pete (Paul Rudd) and Debbie (Leslie Mann) from the blockbuster hit Knocked Up as we see firsthand how they are dealing with their current state of life.