First Two Seasons Of 'The Walking Dead' To Be Rebroadcast In Black And White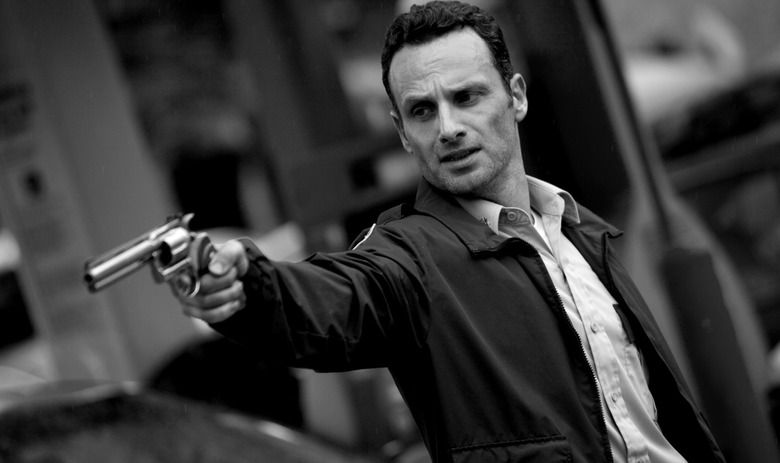 If there's one shade I associate with AMC's The Walking Dead, it's red — as in the color of all that stomach-turning blood and gore. But perhaps that's only because I haven't read Robert Kirkman's comic, which is illustrated in stark black and white. And starting in February, older episodes of the series will be presented the same way. Get ready to revisit the early days of the zombie apocalypse, only this time without color. More info after the jump.
Showrunner Glen Mazzara announced the new black and white episodes by retweeting a clip from The Walking Dead Magazine, and THR followed up shortly after with more details. According to the trade, AMC will air the first two episodes of the series in black and white on Thursday, February 14 starting at 6:30 PM, leading in to the Season 2 premiere of Kevin Smith's Comic Book Men at 9 PM. Here are the dates and times for the first 12 episodes.
Feb. 14, 6:30 p.m. 101
Feb. 14, 8 p.m. 102
Feb. 21, 8 p.m. 103
Feb. 28, 8 p.m. 104
March 7, 8 p.m. 105
March 14, 8 p.m. 106
March 21, 7:30 p.m. 201
April 4, 8 p.m. 202
April 11, 8 p.m. 203
April 18, 8 p.m. 204
April 25, 8 p.m. 205
May 2, 8 p.m. 206
Though details have not been announced for the rest of the Season 2 episodes, AMC is expected to eventually air all episodes from the first two seasons in black and white.
The actual content of the episodes won't change, so there won't be any surprises in terms of plot. But for fans of the show, it'll be an opportunity to review the familiar tale from a fresh perspective. Going from color to black and white might seem like a superficial shift, but viewers who caught the special version of "Days Gone Bye" praised the change for heightening the tension. (From Russ: there's a layer of strange irony here, as ousted showrunner Frank Darabont previously did the color to black and white shift with the DVD release of his film The Mist.) Will you see The Walking Dead in black and white?