'Bates Motel' TV Trailer: Norma And Norman Bates Aim For A Fresh Start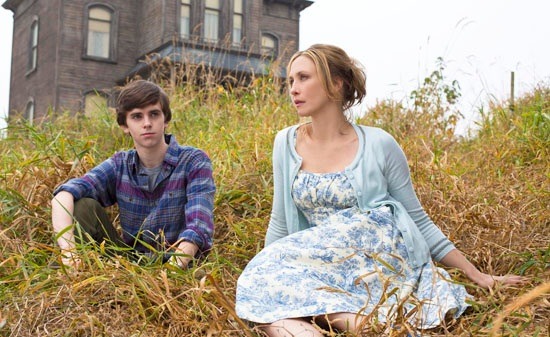 As a prequel to one of the most revered horror movies of all time, A&E's Bates Motel has some pretty big shoes to fill. And while it's unlikely to reach the same iconic status, it's heartening to see that the first trailer actually looks pretty good. (Unlike, say, the one for the ill-received 1987 pilot of the same title.)
The new series, by Carlton Cuse (Lost) and Kerry Ehrin (Friday Night Lights), follows Norman through adolescence in the present day. Freddie Highmore plays the future murderer as a sweet, shy teen, while Vera Farmiga plays the mother who literally drives him insane. The family is eager for the fresh start promised by the new motel she's just purchased, but as we all know from Psycho, their plans don't really go as planned. Watch the trailer after the jump.
[via THR]
The very premise of Bates Motel promises serious thrills. A nice kid like Norman doesn't morph into a psycho (or Psycho) killer without going through some really messed up stuff, and we get peeks of some of those bad experiences here. Even without the "massive thing" that happens in the pilot, the incestuous relationship between mother and son would be enough to put any kid in therapy for a long, long time.
But what's even better is that the action seems to be grounded in what looks like solid character work. Both Cuse and Ehrin come from shows praised for well-written characters, and Cuse in particular managed to balance the personal with the epic for six seasons on Lost.
Also starring Max Thieriot, Nestor Carbonell, Nicola Peltz, Mike Vogel, and Emma Decody, Bates Motel starts airing on A&E next year. Oddly enough, Bates Motel is just one of two serial killer prequels due out in 2013. If you've got a taste for this kind of material, NBC has the Thomas Harris-inspired Hannibal coming soon as well.