'A Haunted House' Red-Band Trailer: Well, At Least It's Better Than The Green-Band Trailer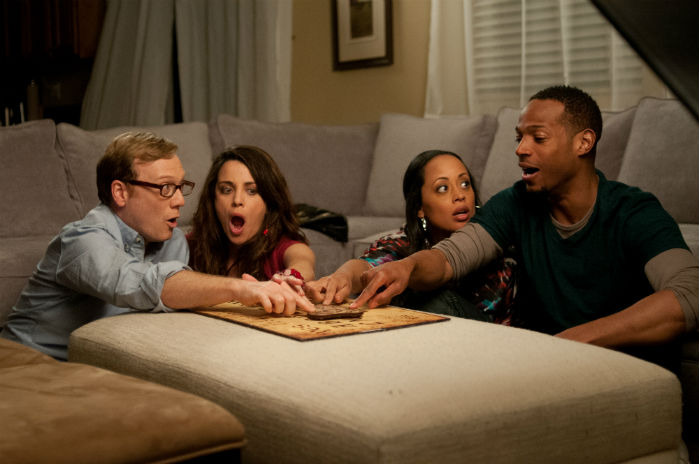 Along with his brother Shawn, Marlon Wayans left the Scary Movie franchise after the first two movies, but that's not stopping him from continuing to parody horror tropes. As Scary Movie 5 eagerly rips into Black Swan — only two years after everyone else did — Wayans is taking on the more relevant Paranormal Activity series.
Directed by Michael Tiddes, A Haunted House stars Wayans and Essence Atkins as a couple who move into their dream house but soon find themselves plagued by supernatural ills. The theatrical trailer was nothing short of terrible, but the new red-band version seems to benefit from the added vulgarity. Nick Swardson, Cedric the Entertainer, and David Koechner also star. Watch the NSFW video after the jump.
[via Vibe]
Who knew replacing fart jokes with dick jokes could go such a long way toward making this movie look palatable? I still got tired of the trailer around the halfway mark, but I did laugh at the initial prank call. And kudos to Wayans' character for realizing that the smart thing to do when faced with a (possible) ghost in the house is to get the hell out of there ASAP. I think we've all seen way too many horror films where the characters stick around long past the point when any rational human being would've fled.
A Haunted House opens January 11, when it'll no doubt benefit from the sparse competition. Gangster Squad and Zero Dark Thirty's national expansion are slated for the same date, but if you want something lighter, A Haunted House will be your only real option.
Synopsis:
In an outrageous send up of the Paranormal Activity movies, The Devil Inside and other "found footage" movies, A HAUNTED HOUSE features young couple Malcolm (Marlon Wayans) and Kisha (Essence Atkins) who have just moved in to their dream house. As they settle in, they quickly find they're not alone. But it's not the house that's haunted, it's Malcolm's girlfriend who is possessed by a demon. Malcolm hires everyone from a priest to modern day ghostbusters to rid her of this unwelcome intruder, determined not to let the evil spirit ruin his relationship... or, more importantly, his sex life.