'Frozen' Concept Art Sets Heroes In An Icy Landscape; More Story Details Revealed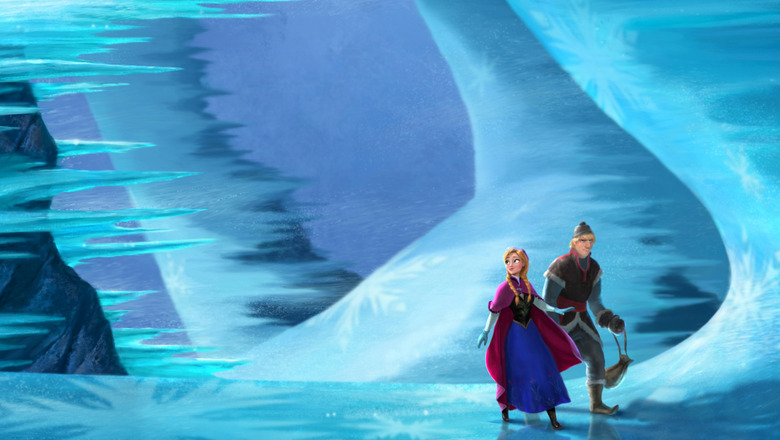 We've had an eye on Disney's adaptation of Hans Christian Andersen's The Snow Queen for years now, as it stopped and started and stopped again and got reworked into the CG adventure Frozen. So it's exciting to realize that its release date is finally just under a year away. Today, the studio unveiled our best look yet at the upcoming film, in the form of a colorful bit of concept art.
The new image shows heroine Anna (voiced by Kristen Bell) and her pal Kristoff strolling through an icy landscape created by her sister Edna (voiced by Idina Menzel). While we've seen a few sketches and drawings from the project before, this gives us a much better idea of what the finished product will ultimately look like. Check it out after the jump.
When a prophecy traps a kingdom in eternal winter, Anna, a fearless optimist, teams up with extreme mountain man Kristoff and his sidekick reindeer Sven on an epic journey to find Anna's sister Elsa, the Snow Queen, and put an end to her icy spell. Encountering mystical trolls, a funny snowman named Olaf, Everest-like extremes and magic at every turn, Anna and Kristoff battle the elements in a race to save the kingdom from destruction.
It's too bad Sven is nowhere to be seen, because he sounds adorable. Click below to enlarge the picture.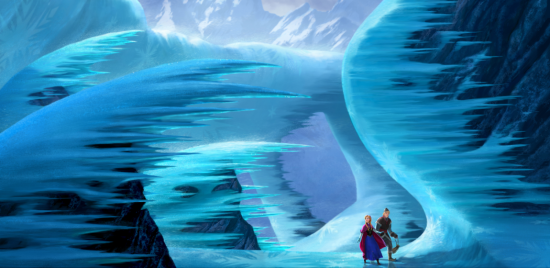 And here's a close-up on Anna and Kristoff.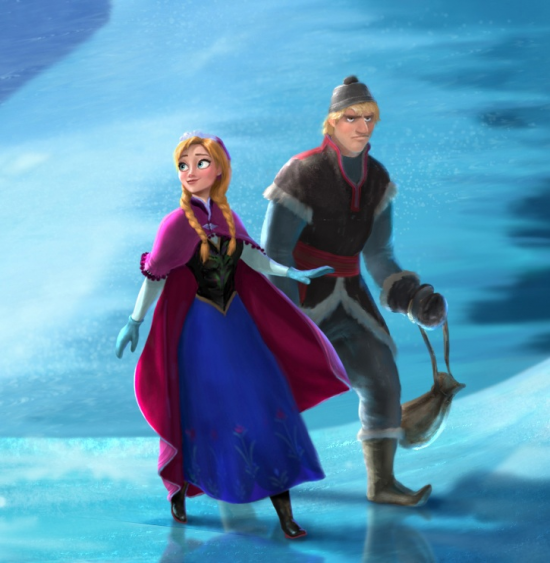 In an interview with EW, co-directors Jennifer Lee and Chris Buck offered a little more insight into the image. "We wanted to push it to the extreme," said Lee of the frostbitten scene. "The unnatural quality of the ice emphasizes this is not, you know, sky-made ice, but ice made by someone."
That someone, of course, is Elsa, who has the ability to control wind and ice. As you can see in the larger version of the image, one of her unique flourishes is the subtle snowflake pattern that's embedded throughout. "You'll see that shape throughout," Buck explained. "It's very subtle, but that's basically [evidence of] Elsa's magic. That's her signature."
Though Elsa's power extend winter indefinitely, odds are Anna and Sven would be well-acquainted with cold weather anyway. Buck and Lee don't name a specific location for the movie, but note that the visuals have a Scandinavian feel to them — appropriately enough for an adaptation of a Danish writer's work.
But the real focus of the film is more universal. The filmmakers talked about grounding the story in the relationship between Anna and Elsa, and what it must've been like for one to grow up in the shadow of the other.
"Anna is a very relatable character to those of us who are not superheroes. She's wonderfully flawed, but fearless. And wants to do the right thing. Those are the characters I love," Lee said. Her buddy Kristoff, meanwhile, is just trying to deal with the powerful woman at his side. "From the Kristoff angle, we were trying to get at what it's like to be a guy, trying to understand women — basically," Lee added.
Frozen comes to theaters November 27, 2013.