Sundance 2013 Adds Four Films Including Quentin Dupieux's Work In Progress With Marilyn Manson And 'El Mariachi'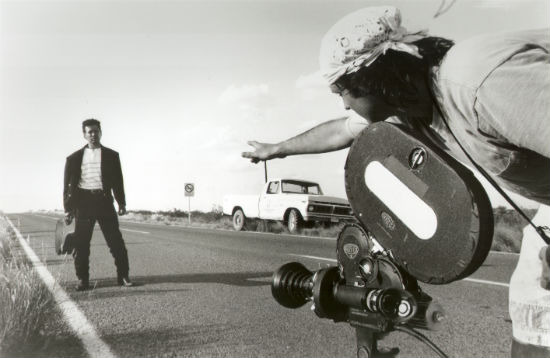 We're just over a month away from the 2013 Sundance Film Festival and I can almost feel the slushy snow seeping through my boots already. The line-up is already incredibly impressive, as it includes world premieres of Ashton Kutcher in jOBS, the new Shane Carruth film Upstream Color, Richard Linklater's Before Midnight; and the horror sequel S-VHS just for starters. (Click on those links to read our coverage of each film so far.)
Plus, the real gems of the festival are rarely the movies you've heard of beforehand. Who heard of Beasts of the Southern Wild before last year's festival?
Sundance has just add four new movies to the already impressive line-up and each is weirder than the next. One is about the birth of a musical genre featuring the biggest names in music, the next features Michael Cera traveling to Chile, the third is an in-progress film by Rubber and Wrong director Quentin Dupieux starring Marilyn Manson and Eric Wareheim and the last is one of the most influential films to ever come out of the festival: a return screening of Robert Rodriquez's El Mariachi. Read about all the films below.
Here are the festival writeups, complete with category, for each of the four films that have been added to the 2013 Sundance Film Festival, taking place January 17-27 in Park City, UT.
PARK CITY AT MIDNIGHTMagic Magic / U.S.A., Chile (Director and screenwriter: Sebastián Silva) — An American girl vacationing in remote Chile mentally unravels, putting herself and those around her in danger. Cast: Michael Cera, Juno Temple, Emily Browning, Catalina Sandino Moreno, Augustín Silva. World PremiereDOCUMENTARY PREMIERESMuscle Shoals / U.S.A. (Director: Greg 'Freddy' Camalier) — Down in Alabama Rick Hall founded FAME Studios and gave birth to the Muscle Shoals sound. Mick Jagger, Keith Richards, Gregg Allman, Aretha Franklin, Etta James, Alicia Keys, Bono and others bear witness to the greatest untold American music story. World PremiereNEW FRONTIER (Film)Wrong Cops / U.S.A. (Director and screenwriter: Quentin Dupieux) — Imagine a Los Angeles where crime is so low that a bored cop sells drugs and harasses a teenager to pass the time. Shot in standalone chapters, as it is being financed, screened and released, watch the 45 minutes of crazy. Cast: Mark Burnham, Marilyn Manson, Steve Little, Eric Wareheim.FROM THE COLLECTIONEl Mariachi / U.S.A. (Director: Robert Rodriguez, Screenwriters: Carlos Gallardo, Robert Rodriguez) — A mariachi musician arrives in a Mexican border town at the same time as a hit man. Each carries a guitar case, but the mariachi's contains his beloved instrument, while the hit man's is full of gadgets and weapons. Cast: Carlos Gallardo, Consuelo Gomez, Jaime De Hoyos, Peter Marquardt, Reinol Martinez. El Mariachi premiered at the 1993 Sundance Film Festival. A newly struck preservation print of El Mariachi, created by Sony Pictures Entertainment to commemorate the film's 20th anniversary, will screen on Saturday, January 19 at the Egyptian Theatre in Park City. Director Robert Rodriguez is expected to introduce the film and participate in the Q&A.
/Film will be on the scene in Park City this January and you can be sure we'll be seeing some of these films. Keep checking back for more.