Set Visit Preview: 'The Incredible Burt Wonderstone,' Plus The First Two Images From The Film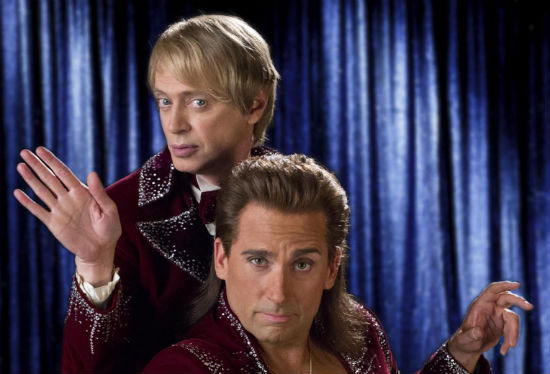 This March, five things people love are all going to be on the big screen together: Steve Carell, Jim Carrey, Steve Buscemi, Olivia Wilde and magic. The Incredible Burt Wonderstone, is scheduled for release March 15 and earlier this year, /Film was invited to the set to see a few of these comedic geniuses work. We spoke to the director and producer, saw Carell and Buscemi work their way through a hilarious scene, and even saw the duo lowered from the ceiling to perform magic.
In the coming weeks, we'll have the full details for the set visit but, after the jump, read a few more details to get you ready.
Directed by TV veteran Don Scardino and co-written by John Francis Daley and Jonathan M. Goldstein, The Incredible Burt Wonderstone not only has an impressive cast, it has an impressive backstory. The film has been floating around for almost six years, Jason Reitman once did a polish, and it's just now coming to fruition. It follows a hugely successful pair of Vegas magicians (Carell and Buscemi) who are driven apart when a new, hip magician (Carrey) hits the scene. They then reunite in an attempt to rightfully gain their throne at the top of the magic game. In addition to the huge stars mentioned about, it also features Alan Arkin, James Gandolfini, Gillian Jacobs, Brad Garrett, Jay Mohr and – of course – a lot of real life magicians, many of whom were the inspirations for the film.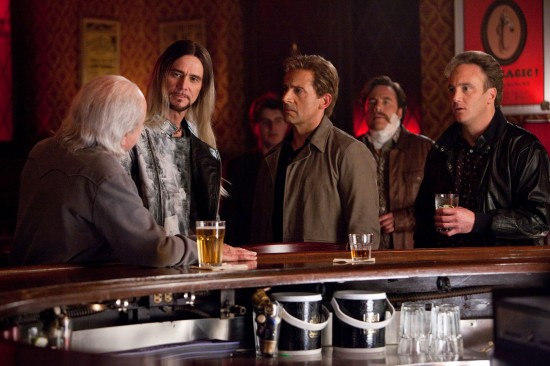 In the coming months, we'll tell you about the ridiculousness of Steve Buscemi and Steve Carell entertaining a bunch of extras in wigs and purple suits. Them being lowered in from the ceiling. And, most interestingly, how a key scene between them and Oliva Wilde's character goes from script, to improv, to comedy gold.
The Incredible Burt Wonderstone was an awesome set to be on and we'll have the full report closer to its March 15 release date. Expect the trailer later this week and here's a better look at the two stars.