Are These The Comics That Inspired The 'Justice League' Film Script?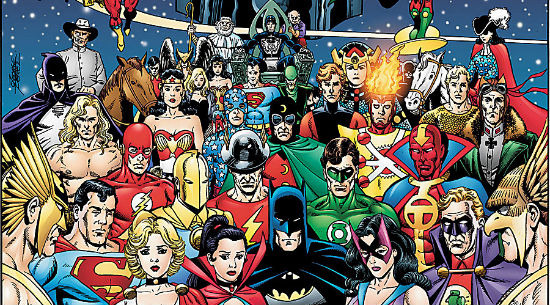 The problem with a superhero team-up movie is you need a believable reason to have such varied characters together on screen. Humans, aliens, gods, mortals, rich, poor, trained, enhanced, it's almost as if every single superhero belongs in their own box. The way Marvel was able to make The Avengers mash-up believable was build it up with several hours of backstory, in the form of five movies. If the latest DC rumor is true, they're going the opposite way and just adapting a huge story.
Will Beall has been writing a Justice League movie, possibly aimed at a 2015 release, that would bring together heroes that might include Batman, Superman, Wonder Woman, Flash, and Green Lantern. Jumping right into something that massive would take an equally massive storyline and now, we might know what that is. After the jump, read which comic book arc Beale is basing his Justice League story on.
Once again this rumor comes from Latino Review. They're the same people who reported the villain in Justice League would be Darkseid. That said, if that rumor is true, the following info makes perfect sense.
Latino Review reports Justice League will be based on Justice League Of America #183-185.
Published in 1980, the issues were written by Gerry Conway with art by George Perez. Teaming up the Justice League with the Justice Society, the story focused on Darkseid attempting to destroy the Earth to make way for his own planet, Apokolips. They're currently available in trade form in Crisis On Multiple Earths Volume 5.
Talking to some friends with intimate comic book knowledge, they said this is a pretty popular and well-know early Darkseid storyline, which makes sense if Darkseid does end up being the villain. From a more layman perspective, teaming up of two teams leaves it open for all kinds of different heroes, and the destruction of the planet is literally the biggest problem imaginable. Sounds good to me.
What are your thoughts on this?