Cool Stuff: 'The Lord Of The Rings' Poster By Olly Moss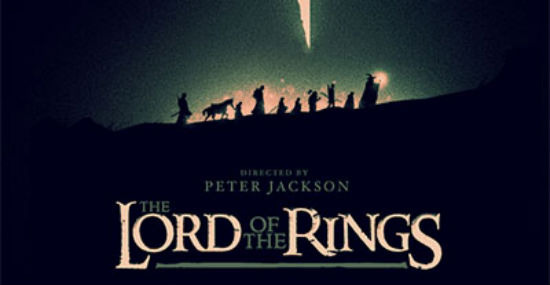 Earlier this summer, Mondo announced they'd acquired the rights to The Lord of the Rings. Short of Star Wars or Star Trek, this was probably the most exciting major franchise out there for the company. Immediately, poster fans thought forward to this week, and the opening of a new film in the franchise. What would the release of The Hobbit bring? The answer is Olly Moss.
The incredibly popular and increasingly influential artist has applied his unique style to the fantasy franchise, with beautiful results. Somehow, Moss was able to encompass the entire franchise in one image, something many would find impossible. I think it's Moss's best work since My Neighbor Totoro, and that's saying something.
After the jump, check it out and find out when and where you can buy it.
Here is the regular and variant of Olly Moss' Lord of the Rings.
Olly Moss's Lord of the Rings is a 15" x 36" screen print. A regular green edition of 580 will be $50 and the variant orange edition of 285 will be $90. They go on sale Thursday December 13 at a random time at @MondoNews.
I love this poster. You've got the shards of Narsil, building into the Eye of Sauron. Its ridges are the cliffs of Mount Doom and there's Golumn. Then, at the bottom, we have the fellowship and the writing on the One Ring. I mean, what more can you want in a Lord of the Rings poster? Simply gorgeous.
What do you think about the poster? Will you be going for it?