Seth Rogen, Jack Black And Rainn Wilson Are 'Ghostbusters'...For Jason Reitman's Live Read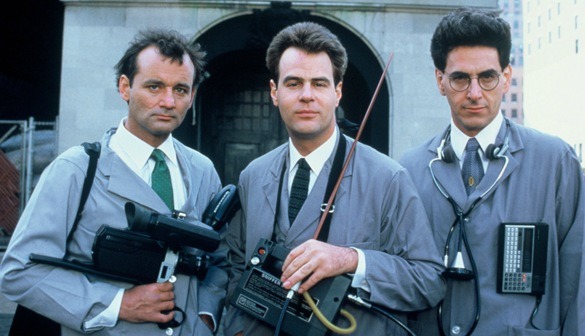 In a piece of fan casting worthy of years and years of Ghostbusters 3 speculation, director Jason Reitman has revealed that for his next live reading, Ghostbusters, he's cast Seth Rogen, Jack Black and Rainn Wilson as Venkman, Stanz and Spengler respectively. The event, part of an ongoing series presented by Film Independent at the Los Angeles County Museum of Art, takes places Thursday December 12. It's sold out.
Of course, Jason Reitman's father, Ivan Reitman, directed the hit 1984 film and revealed to his son that much of the famous dialogue was improvised by Bill Murray. So this isn't just a script reading, it's a combination of the original shooting script with Murray's iconic one-liners. Read the rest of the cast, and how you can possibly see this once-in-a-lifetime event, after the jump.
Entertainment Weekly broke the news of this casting. Here's the rest of the lineup.
Peter Venkman – Seth Rogen
Ray Stantz – Jack Black
Egon Spengler – Rainn Wilson
Winston Zeddmore – Phil LaMarr (Marvin in Pulp Fiction)
Dana Barrett – Kristen Bell
Walter Peck – Kevin Pollak (as well as the voices of Larry King and Casey Kasem)
Janine Melnitz – Mae Whitman
Louis Tully – Paul Rust (Inglourious Basterds, I Love You Beth Cooper)
Everyone else – Paul Scheer
You can head to their site to read some quotes from Reitman about each of his choices. Unfortunately, tickets for the event sold out weeks ago, long before such an awesome, iconic film was picked. There is a stand-by line but, if you want a chance of getting in, you should probably head over there right now. For more info, visit the LACMA site.