Sequel Bits: 'Star Trek Into Darkness', 'Bond 24', 'Clerks III', 'The Hobbit', 'Tinker Tailor Soldier Spy', 'Insidious 2', 'The Wolverine', 'X-Men: Days Of Future Past', 'Dawn Of The Planet Of The Apes'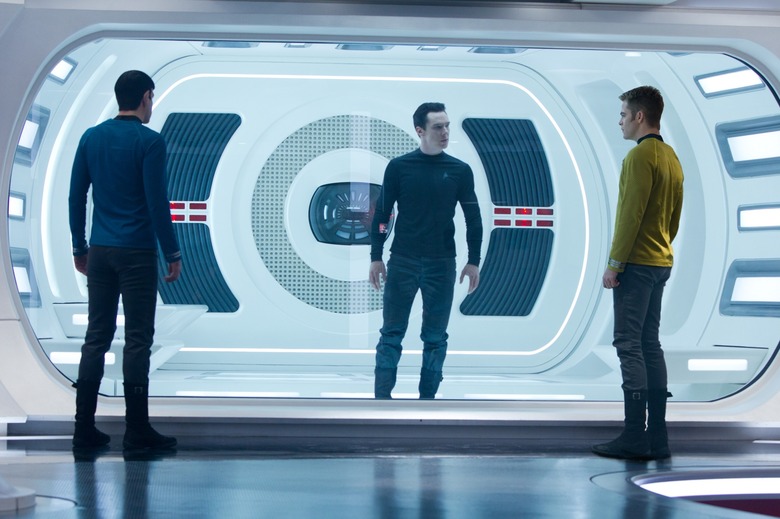 Not surprisingly, today's tidbits begin with Star Trek Into Darkness. After the jump:
Simon Pegg is laughing at your Star Trek fan theories
You can count out Danny Boyle for Bond 24
Clerks III already has a 70-page outline
Andy Serkis talks The Hobbit and Apes
A Tinker Tailor Soldier Spy sequel is coming 
Barbara Hershey will return for Insidious 2
Wolverine, X-Men, Apes, and Percy Jackson go 3D
You know who does know who the villain is? Star Trek Into Darkness actor Simon Pegg. And he's apparently not above gloating about it.
It's fun reading the speculation surrounding the Star Trek trailer, seeing all the questions, all the while, knowing ALL the answers. *grin*

— Pegg News (@simonpegg) December 6, 2012
Yeah, yeah. Jerk. Though I'll be honest, I'd be saying exactly the same thing if I were in his place.
As we speculate on who'll get to direct the next Bond movie, there's one name we can definitively rule out: Danny Boyle. The filmmaker masterminded the 2012 London Olympics opening ceremony, which featured a brief segment with Daniel Craig as 007. However, Boyle says he's not up to directing a full-length feature about the iconic spy.
"No, I'm not very good with huge amounts of money," he said. Boyle then exlained that his experience on 2000's The Beach had turned him off of big-budget moviemaking forever. Damn you, DiCaprio! [THR]
Kevin Smith just announced Clerks III as his final directorial effort last week, but the project seems to be making good progress already. In response to a fan asking about the movie's status, Smith responded:
Via @joshuabporter "is it already written/outlined" I've got a 70 page outline for Clerks III. Transitioning to full script won't take long.

— KevinSmith (@ThatKevinSmith) December 8, 2012
Smith's mentioned his ideas for a third Clerks many times before, so it's not surprising he'd have an outline already. The bigger problem right now, as Germain mentioned in his previous post, is that Jeff Anderson (Randall) hasn't said yes yet.
Gollum likely won't return to The Hobbit after An Unexpected Journey, but Andy Serkis plays a prominent off-camera role in all of them as assistant director. The actor sat down with Collider to talk about his experience behind the scenes, advances in performance capture technology, and the advantages of shooting in 48FPS. He claims to have been "blown away" by An Unexpected Journey in 48FPS, though of course he has to say that. Watch his interview below:
Because Tinker Tailor Soldier Spy is based on just one of three John Le Carré novels featuring George Smiley (Gary Oldman), there was talk even before the movie opened that it could launch a franchise. Now, a year later, producer Eric Fellner confirms that a sequel based on the book Smiley's People is actively in the works.
"We are working on another one. [Producer] Tim Bevan is putting it together as we speak with [screenwriter] Peter Straughan and [director] Tomas Alfredson, so yes it's in development," he revealed. It'll probably take a while yet to hit theaters, however. "[T]hings take time," he said. "Tim is passionate about making sure we do another one." [Collider]
Add Barbara Hershey to the growing list of key players returning for Insidious Chapter 2, which also includes actors Rose Byrne, Patrick Wilson, Lin Shaye, Ty Simpkins, writer Leigh Whannell, and director James Wan. Hershey will reprise her role as Lorraine Lambert, mother to Josh (Wilson) and grandmother to Dalton (Simpkins). Shooting will begin in Los Angeles early next year for an August 30, 2013 opening. [Deadline]
Nowadays, it's almost bigger news when a studio tentpole isn't being released in 3D than when one is. Nevertheless, we like to keep up on the details so here they are. Exhibitor Relations is reporting that Fox will release four of its upcoming titles in 3D: X-Men: Days of Future Past, Dawn of the Planet of the Apes, Percy Jackson: Sea of Monsters, and The Wolverine.
Of the four, the latter two have already wrapped filming. Since we didn't hear anything about 3D cameras during the production, it's safe to assume these will be 3D films of the post-converted variety. The first two have yet to shoot, though, so we can hold out hope they'll be in native 3D. Wolverine and Percy come out next summer (July 25 and August 16, respectively), followed by Apes and X-Men the summer after (on May 23 and July 18). [via Collider and First Showing]