Matt Damon Approached 'Dark Knight' Scribe Jonathan Nolan For 'Bourne 4'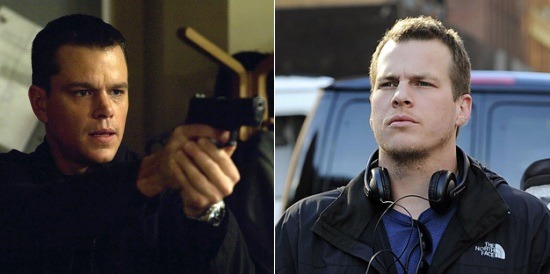 This summer, Tony Gilroy and Jeremy Renner served up The Bourne Legacy, a Bourne movie without its title character. But those who've been following the franchise over the years will recall that that wasn't always the plan.
After the success of The Bourne Ultimatum, star Matt Damon and director Paul Greengrass tried for years to get a fourth Bourne off the ground. They never quite managed to make it work, even with the help of screenwriters George Nolfi and Josh Zetumer. Now the actor has revealed that he also once approached Jonathan Nolan, the man behind two-thirds of Christopher Nolan's Batman saga, to get a story sorted out. Hit the jump to read Damon's comments.
Just a couple things, really. Paul Greengrass has to want to do it, and secondly and equally important, it comes down to Paul and I knowing what the hell we want to do. We just don't have a story, and we haven't had one. I quietly went to Jonah Nolan, because he and his brother Chris did such a brilliant job on Batman and that whole mythology. I just said, can you put your brain on this? I can't figure it out. And he took a run at it and he couldn't crack it either. Paul and I have been talking about it for years. And we can't quite see what the movie would be. If we could get line of sight on that...
Nolan's career highlights include his work on The Prestige, The Dark Knight, and The Dark Knight Rises, as well as his creation of the CBS series Person of Interest. Given that he was unable to figure out a satisfactory storyline, perhaps his take wouldn't have been any better than The Bourne Legacy turned out to be. Still, it's fun to fantasize about what might've been.
Despite his previous assertion that The Bourne Legacy made it "harder" for him to return as Bourne, Damon added that he'd be happy to reprise the character under the right circumstances:
Neither of us is against it. I would love to do another one. I love that character. To me, the reason to make that movie is because people want to see it. Paul and I have said that to each other. We don't take for granted the fact that we've built an audience for Bourne, that's a real privilege. But our part of that bargain is that the movie is good and belongs with the other three. Until we can deliver that, we just can't make it.
Note that he doesn't even mention Bourne Legacy when he talks about trying to make a new film fit with the universe. Somehow I suspect Jason Bourne and Aaron Cross won't be buddying up anytime soon.