Watch The Full-Length 'The Lone Ranger' Trailer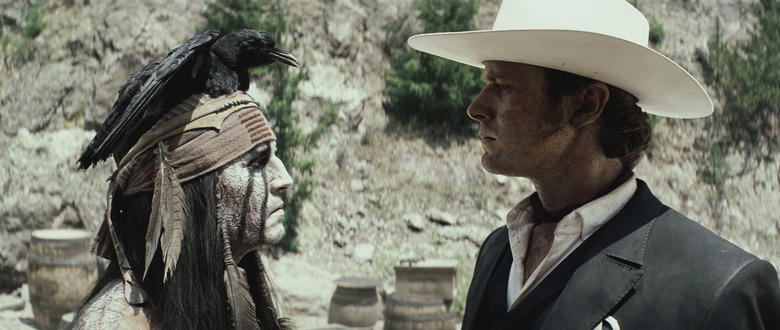 Update from Editor Peter Sciretta: The trailer has been released and is embedded after the jump. Please leave your thoughts in the comments below.
Disney has released a new trailer for Disney's The Lone Ranger. Gore Verbinski directs Johnny Depp as Tonto and Armie Hammer as the Ranger in a version of the classic American western storyline that puts Tonto as the real mastermind of the pair. This footage isn't much, but it gives up a bit more of Tonto and the Ranger than did the teaser, as it shows Depp's enigmatic character talking Hammer into his mask.
The Lone Ranger opens on July 3, 2013. It also features Tom Wilkinson, William Fichtner, Barry Pepper, James Badge Dale, Ruth Wilson, and Helena Bonham Carter.
From producer Jerry Bruckheimer and director Gore Verbinski, the filmmaking team behind the blockbuster "Pirates of the Caribbean" franchise, comes Disney/Jerry Bruckheimer Films' "The Lone Ranger," a thrilling adventure infused with action and humor, in which the famed masked hero is brought to life through new eyes. Native American spirit warrior Tonto (Johnny Depp) recounts the untold tales that transformed John Reid (Armie Hammer), a man of the law, into a legend of justice—taking the audience on a runaway train of epic surprises and humorous friction as the two unlikely heroes must learn to work together and fight against greed and corruption. Native American spirit warrior Tonto (Johnny Depp) and man of the law John Reid (Armie Hammer) are opposites brought together by fate and must join forces to battle greed and corruption.