'Oblivion' Trailer: Tom Cruise Thinks He's The Last Everyman On Earth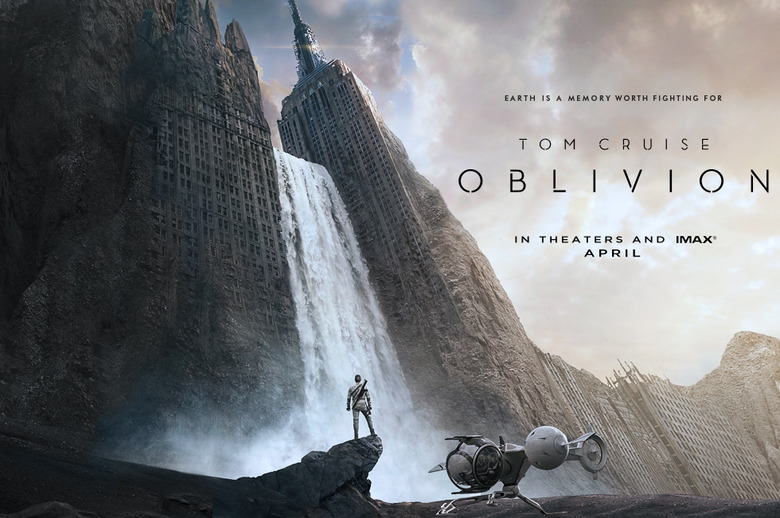 Get past the idea that Tom Cruise plays a lonely technician — or we're meant to believe he does, at least — and this first trailer for Oblivion, the new film from Tron: Legacy director Joseph Kosinski, looks pretty appealing. While I have trouble buying Cruise as the last everyman on Earth, there's a lot of good stuff here.  The trailer is, as we expected from Kosinski, full of great designs. And there's a lot of classic sci-fi reference in here, as well as some nods to much more recent work. (The poster doesn't just pull the basic aesthetic made popular by Christopher Nolan's Batman films; the movie even apes the football stadium push-in from The Dark Knight Rises.)
So have a look at this vision of a decimated future Earth, on which Tom Cruise discovers that there's more humanity left than he thought, when he runs across Morgan Freeman and a band of ragged survivors.
There's a good question about what's real and what's not, and I suspect that my difficulty buying Cruise as the drone repair guy may be addressed by the plot. There are shades of Solaris in there (vague ones, but still), and that makes me hopeful for the film. If nothing else, it will be great to look at for at least one viewing.
Apple has the trailer. Oblivion opens on April 12.
Tom Cruise stars in Oblivion, an original and groundbreaking cinematic event from the director of TRON: Legacy and the producer of Rise of the Planet of the Apes. On a spectacular future Earth that has evolved beyond recognition, one man's confrontation with the past will lead him on a journey of redemption and discovery as he battles to save mankind.