Japanese 'Iron Man 3' Trailer Sells A Bummer Of A Movie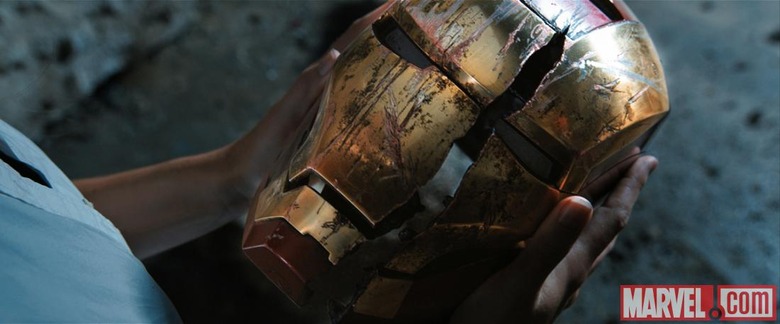 Tony Stark always considered himself larger than life but, after the events of The Avengers, he's obviously had to rethink that belief. Sure he's rich, smart and smooth, but he's no god. He's no alien. He's no Hulk. He's merely a mortal man with an awesome suit. That potentially depressing realization is very much on display in this short, focused Japanese trailer for Iron Man 3. Stark's struggle was certainly present in the domestic trailer, but it was juxtaposed with bigger action too. Here, we're shown a man conflicted and losing his home, then the title card, complete with a few new shots.
Directed by Shane Black, Iron Man 3 stars Robert Downey Jr., Gwyneth Paltrow, Don Cheadle, Sir Ben Kingsley, Rebecca Hall, Guy Pearce and more. It opens May 3. Check out the Japanese trailer below.
Thanks to Empire (via First Showing) for the trailer.
I think there are maybe two new shots in there, one of Pepper and one of the Iron Patriot. But I could be wrong. Really what's interesting is how the film is being sold as such a struggle for Tony Stark. There's no indication of any of the technological advances that are in place in this movie, no indication of any of Stark's trademark humor. And in this trailer, not even that much action outside of the big explosions in Malibu. It's all about depression and destruction. And, frankly, I hope the movie is more of that than the Tony Stark wittiness we've seen for three movies now. What about you?
Marvel's "Iron Man 3" pits brash-but-brilliant industrialist Tony Stark/Iron Man against an enemy whose reach knows no bounds. When Stark finds his personal world destroyed at his enemy's hands, he embarks on a harrowing quest to find those responsible. This journey, at every turn, will test his mettle. With his back against the wall, Stark is left to survive by his own devices, relying on his ingenuity and instincts to protect those closest to him. As he fights his way back, Stark discovers the answer to the question that has secretly haunted him: does the man make the suit or does the suit make the man?