Find Out Which IMAX Theaters Are Playing The 'Star Trek Into Darkness' Prologue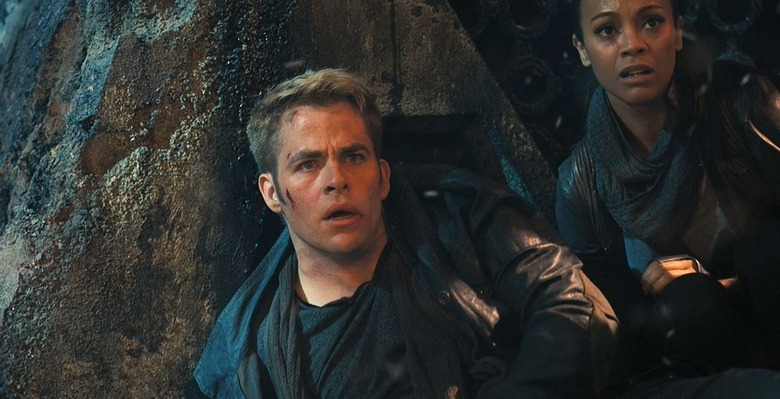 Great as it was to finally get a glimpse of Star Trek Into Darkness that lasted more than 1/8 of a second, today's one-minute "teaser announcement" really only served to whet our appetites, not satisfy them. Luckily, additional footage won't be too hard to come by in the near future.
Recently, we learned that a nine-minute prologue would play before IMAX 3D screenings of The Hobbit: An Unexpected Journey starting December 14. Now the studio has released more details on the preview, including exactly which domestic and international cinemas will play the clip. Hit the jump for more info.
You can look up your closest participating theater on the picture's official website, or consult the full list posted at Comic Book Movie. The latter includes information on international locations as well. Don't assume every IMAX theater is playing it — I checked my own area and found that the biggest IMAX screen I know of in New York City is not on the list.
Meanwhile, those who choose to see The Hobbit on regular-sized screens will be getting a Trek treat that weekend as well. The first full-length trailer will debut in front of regular screenings of the fantasy adventure. Or, if you really just don't want to see The Hobbit at all, hit the web on December 17 to see the trailer's online debut.
Directed by J.J. Abrams and starring Chris Pine, Zachary Quinto, Benedict Cumberbatch, and Zoe Saldana, Star Trek Into Darkness opens May 17.
In Summer 2013, pioneering director J.J. Abrams will deliver an explosive action thriller that takes Star Trek Into Darkness. When the crew of the Enterprise is called back home, they find an unstoppable force of terror from within their own organization has detonated the fleet and everything it stands for, leaving our world in a state of crisis. With a personal score to settle, Captain Kirk leads a manhunt to a war-zone world to capture a one man weapon of mass destruction. As our heroes are propelled into an epic chess game of life and death, love will be challenged, friendships will be torn apart, and sacrifices must be made for the only family Kirk has left: his crew.