TV Bits: 'Freaks & Geeks', 'Mad Men', 'Game Of Thrones', 'Doctor Who', 'Girls', 'Bates Motel', 'Enlightened', 'Californication', Mike Judge, Sean Bean, Beyonce
Today's TV bits is stuffed to the brim with new project announcements, casting notices, trailers, and much more. After the jump:
Mike Judge and Scott Rudin team for Silicon Valley at HBO
FX is adapting J. Michael Feldman's show Fairy Tale Theater
Goonies co-stars Sean Astin and Corey Feldman reunite on TMNT
The Newsroom casts someone to play a Romney campaign staffer
Sean Bean replaces Brendan Fraser in TNT's spy drama Legends
The CW gives freshman drama series Cult a February premiere date
Jon Hamm and John Slattery direct more episodes of Mad Men
Is Doctor Who uniting all 11 Doctors for an anniversary special?
How would you like to create a title sequence for A&E's Bates Motel?
Read an in-depth oral history of beloved cult classic Freaks & Geeks
Hannah fails to get a job in a deleted scene from Season 1 of Girls
Laura Dern has big plans in the Enlightened Season 2 teaser
See a teaser for the Beyonce-directed documentary about Beyonce
Check out a production video from the Game of Thrones set
Showtime offers up a teaser for season 6 of Californication
FX and Billy Crystal are developing a series based on J. Michael Feldman's comic stage show Fairy Tale Theater: 18 and Over. The show uses puppets to play out twisted, un-PC fables about modern concerns like sex and finance. Feldman will write and executive produce. Read the LAT's review of Feldman's show here. [Variety]
Nickelodeon's Teenage Mutant Ninja Turtles will be the site of a Goonies mini-reunion. Corey Feldman has recorded a mysterious guest role on the series, which features Sean Astin as Raphael. Interestingly, Feldman was once up for the part of Raphael himself before Astin won out. But he has had his shot at playing a Turtle before — he voiced Donatello in two previous Teenage Mutant Ninja Turtles movies. [TV Guide]
Mitt Romney's presidential run will be a key part of The Newsroom's second season, as indicated by this latest bit of casting. Relative newcomer Joel Johnstone has booked a recurring role as Cameron, a "well-scrubbed" member of Romney's campaign staff. Cameron will be working with Hallie Shea (Grace Gummer), a reporter embedded with the campaign. [THR]
It's usually bad news for a show when the lead actor drops out, but Brendan Fraser's exit from TNT's Legends has resulted in a serious upgrade. Sean Bean will take over Fraser's role as Martin Odum, a deep-cover operative who specializes in transforming into different people for each job. Wait, does this mean Odum is going to die? [Deadline]
Now that Emily Owens M.D. has officially been cancelled, The CW is scheduling a new series to take over its plot. Starting February 19, the freshman drama Cult will air Tuesdays at 9. The series follows a journalist (Matt Davis) and a research assistant (Jessica Lucas) who begin to suspect a hit TV show is connected to some real-life disappearances. Watch our mini-review of the pilot from SDCC here. [Deadline]
Jon Hamm and John Slattery aren't just returning as actors on the next season of Mad Men. They're coming back as directors, too. Hamm, who made his directorial debut last season, will helm one episode in the upcoming season, while Slattery, who's directed three previous episodes, will shoot two more in Season 6. [THR]
As Doctor Who nears its 50th anniversary in 2013, fans are wondering what special tricks the series has in store. Rumors have been flying all over the place, but one of the more interesting ones comes from Blogtor Who — who promptly deleted their post.
According to the now-disappeared report, the anniversary special will be titled "The Eleven Doctors." As the name suggests, it will indeed feature all eleven Doctors to date. It's worth pointing out that not all eleven are even alive, but (assuming this rumor is true) perhaps they've got other plans in store to work them into the story. The episode will allegedly run 90 minutes and begin shooting in February. Hit Bleeding Cool for more info, and please take it all with a grain of salt.
Does the idea of a Psycho prequel get your imagination running wild? A&E and Carlton Cuse are calling for fans to submit title sequences for Bates Motel, the best of which may actually be incorporated as the show's official opening sequence. (Even if that doesn't turn out to be the case, the winner gets $2,500.) Watch Cuse's announcement below and swing by their Facebook page for more info.
[via AV Club]
If you're a fan of Freaks & Geeks, the only thing I need to convince you to read this excellent oral history in Vanity Fair is the link. If you're not, stop reading TV Bits immediately and marathon your way through the first series. Then come back and read the story, which includes quotes by creator Paul Feig, exec producer Judd Apatow, all of the main cast, and several of its recurring players. Here's an adorable reunion photo, just to give you a taste.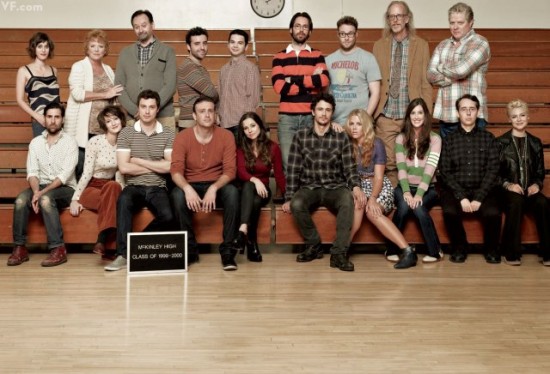 Nowadays, of course, Apatow is exploring youth from a whole different perspective as exec producer of Lena Dunham's Girls. The last season saw protagonist Hannah (Dunham) scrambling to find a job after her parents cut her off, with limited success. In a just-released deleted scene, she fails to find work at a cupcake shop:
Girls' first season comes to DVD and Blu-ray December 11. The second season debuts on HBO January 13. [The Playlist]
Also returning to HBO on January 13 is Enlightened, which will be in its second season. Watch as Laura Dern and Mike White plot to take down the Man, against the strains of fun.'s "Some Nights":
[HBO]
The best directors for a given project are usually the ones that really get the topic. So there's no one better than Beyoncé to direct the new Beyoncé documentary, which hits HBO February 16. Watch the teaser and read the synospis below:
The film is a multi-faceted portrait of the 16-time Grammy Award-winning singer, businesswoman, songwriter, actress, entrepreneur, wife and mother, showing off the extraordinary gifts that have made her a global phenomenon, and stripping away the veneer of stardom. It includes extensive first-person footage, some of it shot by Beyoncé on her laptop, in which she reflects on the realities of celebrity, the refuge she finds onstage and the transcendent joy of becoming a mother last year.
The film sheds light on her childhood in Houston, with home movies revealing the close bond she built with her family and charts the challenges Beyoncé felt when she decided to manage her career and build her own company, Parkwood Entertainment. It also captures the intense physical and emotional demands she goes through in the studio, preparing for live performances, running a business and her family life, including her return to the spotlight after the birth of her daughter, Blue Ivy Carter, in January 2012.
[via The Playlist]
The first teaser for HBO's Game of Thrones really didn't give much away at all, but fortunately this new behind-the-scenes video is a little more revealing. Get an eyeful of some of the new characters and locations, and marvel at how much older Maisie Williams (Arya) looks now!
[via Coming Soon]
Season 5 of Californication left off with its main character's life in jeopardy, but the fact that Season 6 exists at all should suggest he's lived to tell the tale. In a new production video, the returning cast and new stars (including Maggie Grace and Tim Minchin) talk about where the series will go next:
Californication returns January 13. [via Cinema Blend]