First Look: Harrison Ford Scolds Asa Butterfield In 'Ender's Game'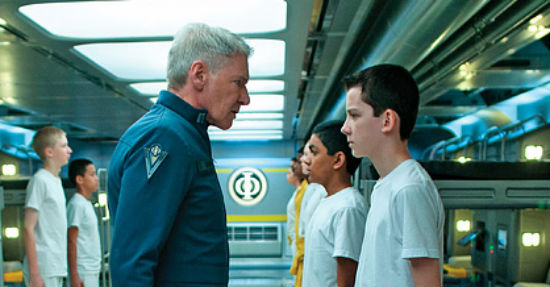 Very soon, lists of anticipated films coming in 2013 will start being posted on the internet and – spoiler alert – this one is going to be on mine. Ender's Game, based on the classic sci-fi novel by Orson Scott Card, is scheduled for release November 1. Directed by Gavin Hood, it stars Asa Butterfield, Harrison Ford, Hailee Steinfeld, Ben Kingsley, Abigail Breslin and Viola Davis. The film follows a beyond-genius young man (Butterfield) who is recruited and trained to lead an army against a villainous race of bugs.
Producers were teasing images during production but with post-production now well under way, our first official look at the film has been revealed. Check out the full image below.
Thanks to Entertainment Weekly for this image.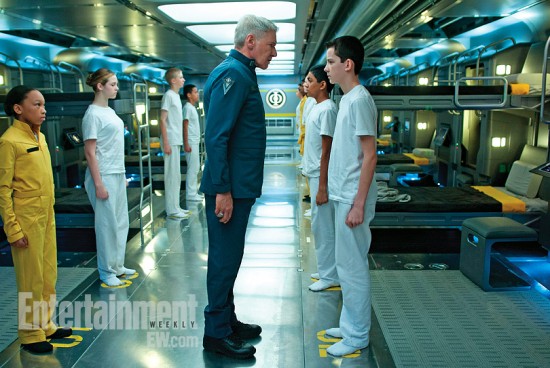 That's Harrison Ford as Colonel Graff, the head of Battle School, scolding Ender in his Battle School barracks. Besides the stars, for fans of the book, the real star of this photo is the set. That's Battle School, fully realized, as a bright but cold place.
Here's what Hood told EW about the relationship between the young star and the legendary hero. Head there to read more:
The relationship between [Harrison] and Asa was very close but he didn't overly befriend him off the set. He helped Asa by allowing that slight sense of intimidation to be there....The kids have to attend school for at least three hours of class every day, plus do homework, so you can only shoot with someone like Asa for five hours of your day. There was no time for fooling about or not knowing your lines or being unprepared.
With the movie still almost a year away, I don't think we'll start seeing posters or trailer until the Spring but when that happens, it'll likely happen on the official Facebook.
Here's the official plot description:
In the near future, a hostile alien race (called the Formics) have attacked Earth. If not for the legendary heroics of International Fleet Commander, Mazer Rackham (Ben Kingsley), all would have been lost. In preparation for the next attack, the highly esteemed Colonel Graff (Harrison Ford) and the International Military are training only the best young children to find the future Mazer. Ender Wiggin (Asa Butterfield), a shy, but strategically brilliant boy is pulled out of his school to join the elite.
Arriving at Battle School, Ender quickly and easily masters increasingly difficult war games, distinguishing himself and winning respect amongst his peers. Ender is soon ordained by Graff as the military's next great hope, resulting in his promotion to Command School. Once there, he's trained by Mazer Rackham, himself, to lead his fellow soldiers into an epic battle that will determine the future of Earth and save the human race.