Sequel Bits: 'Mission: Impossible 5,' 'The Host 2,' 'Fast And Furious 6,' And Posters For 'Riddick' And 'G.I. Joe: Retaliation'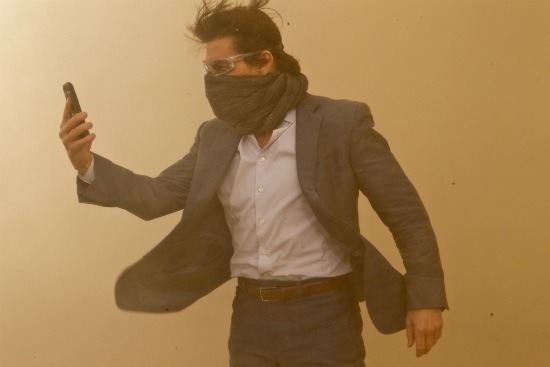 With Jack Reacher releasing in just a couple of weeks, that film's writer/director Christopher McQuarrie is finally back on screens with a directing credit to follow his debut The Way of the Gun, which hit in 2000. McQuarrie is the lead choice to direct Tom Cruise (and presumably Jeremy Renner) in Mission: Impossible 5, and talked about the job recently to Graffiti Without Punctuation:
We've just started talking about it. He [Tom Cruise] is very busy with 'All You Need is Kill', JJ [Abrams] is very busy with 'Star Trek Into Darkness', I'm busy promoting this movie. Obviously, I love working with him [Cruise] and would love to do it, it's daunting in that I would have to follow Brad Bird... you know, the biggest movie of the genre. At the same time that's kinda what I like about it, I like to come from a place of lowered expectation and I have to imagine that when they find out a filmmaker like me who feels, as someone put it earlier today 'street level'... between 'Way of the Gun' and 'Reacher' and movies like that, I have to imagine that when it becomes real that people's expectations could not be any lower.
After the break:
Fast and Furious 6 moves to LA for more shooting,
Additional effects footage shows up from The Host 2,
Rodrigo Santoro talks about the 300 prequel/sequel,
and new international posters hit for Riddick and G.I. Joe: Retaliation.
Fast and Furious 6 has been shooting in the UK for the last few months, but this week it moved back to the States and has been shooting scenes in LA. OnLocationVacations has the news, but no photos or video of the shoot at this point. The sixth movie in the series brings Vin Diesel, Paul Walker, Michelle Rodriguez, and Dwayne Johnson back to driver's seats, with Justin Lin once again directing. The film will also presumably continue the heist/adventure movie angle of the last chapter.
We've started to see little bits of The Host 2, which follows Bong Joon-ho's excellent 2006 film. The short video below highlights the work of Macrograph, an effects company which has also done work for A Chinese Ghost Story and Stephen Chow's next film Journey to the West, and is also doing the work for The Host 2.
There are two bits of footage here, at 0:27, and at about 3:00. It's not a lot, but it's nice stuff:
Here's the original effects taste, too, just in case you missed it. Both are thanks to Twitch.
Because 300 made buckets and buckets of dollars, Warner Bros. is still working hard on the prequel/sequel 300: Rise of an Empire, based largely on Frank Miller's 300 follow-up graphic novel Xerxes. Noam Murro is directing the new film, with Sullivan Stapleton, Eva Green, Lena Headey, Hans Matheson, Igal Naor, Callan Mulvey, Jack O'Connell and Andrew Tiernan.
Another actor taking part is Rodrigo Santoro, who will again play Xerxes. The actor recently talked to ComingSoon about going back to the role:
I had to shave, I had to work out again, I had to go back to Xerxes. It's the same character. There's little new things—a little before, a little after—but most of the movie, it's during... kind of the same time where the first movie takes place. There's a lot going on. It's hard, the green screen, it's a different way of working. It's really challenging to work that way and the character wears a lot and Xerxes is a giant. He's almost not human, which is a poetic license. It comes from a graphic novel so it's not based in real history, so that character is very very tall and his voice is like thunder and that's the description of this character. So there's a couple special FX and tricks that have to be done to accomplish that figure so I do scenes by myself. It's interesting, it's a lot of work.
300: Rise of an Empire is scheduled for August 2, 2013.
Finally, in the gallery above are two new posters, one for G.I. Joe: Retaliation, which opens on March 29th, 2013. The one-sheet puts Channing Tatum into the mix; we presume that, while Tatum's character was originally killed early in the Joe sequel, part of the reason for the film's delay was to shoot more scenes with the actor to take advantage of the big leap in popularity he got this year thanks to 21 Jump Street and Magic Mike. The sequel also stars Dwayne Johnson, Bruce Willis, Adrianne Palicki, D.J. Cotrona, Ray Stevenson, Byung-hun Lee and Ray Park.
The other is the international poster for Riddick, which stars Vin Diesel, Karl Urban, Jordi Molla, Matt Nable, Katee Sackhoff, Bokeem Woodbine and Dave Bautista, The R-rated Riddick is due 2013, and the poster could just as easily be promoting another Riddick video game (which doesn't exist, as far as I know — don't get exicted) as a new movie.
The infamous Riddick has been left for dead on a sun-scorched planet that appears to be lifeless. Soon, however, he finds himself fighting for survival against alien predators more lethal than any human he's encountered. The only way off is for Riddick to activate an emergency beacon and alert mercenaries who rapidly descend to the planet in search of their bounty. The first ship to arrive carries a new breed of merc, more lethal and violent, while the second is captained by a man whose pursuit of Riddick is more personal. With time running out and a storm on the horizon that no one could survive, his hunters won't leave the planet without Riddick's head as their trophy.