Chris Morgan Talks 'The Legend Of Conan' Tone, Plot And Arnold Schwarzenegger's Participation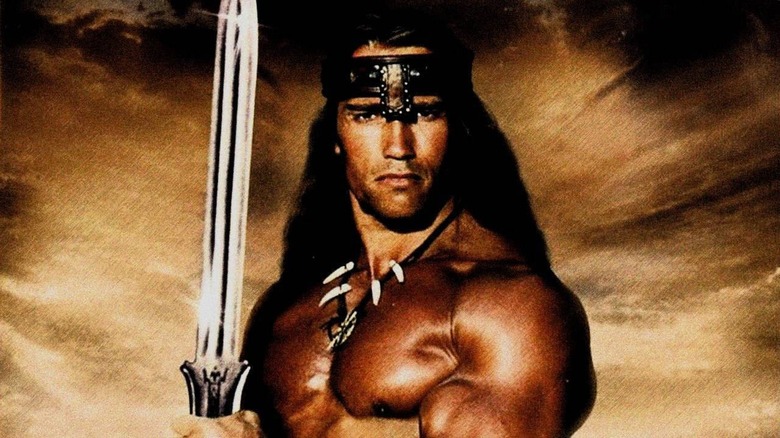 How does one convince Arnold Schwarzenegger, a 65-year-old man, to reprise the very physical, mostly shirtless role that helped launch his career in the 1980s? That was the question producer/screenwriter Chris Morgan had to answer when pitching the actor his idea for The Legend of Conan. Schwarzenegger had already shown an openness to returning to some of his more trademark roles (Terminator, for example) and has embraced his action superstar status once more, with upcoming films like The Last Stand and The Tomb.
Conan was something different, however. More animal. More open. So what did Morgan say to convince the actor to once again play in the days of high adventure?
Get the answer, and more news about the new chapter in the series, after the jump.
Morgan, who has a deal at Universal and is best known for writing the most recent Fast and Furious films, will be producing The Legend of Conan. He's still unsure whether or not he'll write it (he's obligated to do Fast and Furious 7 first) but tells the Los Angeles Times, "No matter what, I'll be there every step of the way. Whether it's penning this quickly or selecting the writer, it's me guiding the process or being a real honest-to-god producer."
He also told the paper about Schwarzenegger pitch and tone of the film. All of the below quotes come from the Los Angeles Times.
Conan is obviously a character many hold near and dear to their hearts and Morgan described the film's significance to Schwarzenegger focusing on that. It's how he got him interested.
Not a reboot, not a remake. Just an update. Where has the character been all this time? A catch-up with Conan.
The film will take place long after the events of the first two movies, so Conan has been King for a long time. This way, the actor will actually fit the age of the character and not have to be as physical as he was in the 1980s.
He's not going out and fighting battles, but he ends up getting drawn into something. And he has to access the barbarian he was in his youth. I love that Conan has been many things in his life, notably a pirate, a major tactician and a commander of men. In this movie, we're going to tap into some of those things – things you haven't seen on screen yet.
What exactly does that refer to?
I want the warrior whose joints have started to fuse together, who has to crack the cartilage so he can pick up a sword again. I want the guy who's not necessarily lost a step, but there's some rust he has to shake off. I want to embrace that. It makes it a greater hero stort. Conan needs to be faced with challenges. The greatest challenge to him isn't the armies that are set before him. It's, on some level, self-doubt, a little bit of slowing down and forcing yourself to be heroic beyond what people expect of you. What I don't want is for him to step back in and look the same. That would defeat the purpose of our story.
The Legend of Conan is tentatively slated for a Summer 2014 release, meaning it would go into production by mid-to late 2013. Do you like what you hear from Morgan?