Alamo Drafthouse To Open Third New York Location In Downtown Brooklyn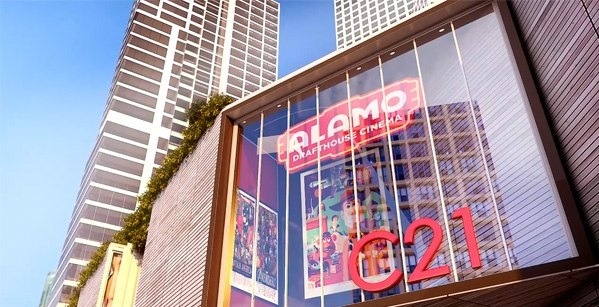 New York is already a pretty sweet place to live if you're a film lover. Not only is it among the first stops for limited releases, its popularity as a shooting location means New Yorkers are constantly surrounded by the sites of iconic movie scenes. It's home to lots of industry movers and shakers, meaning it's not so unusual to run into stars or filmmakers at screenings of their films. And over the next three years, it's only getting more cinephile-friendly.
Earlier this year, the Alamo Drafthouse revealed plans to expand to New York with locations in Yonkers (2013) and Manhattan's Upper West Side (2014). Now the Austin-based cinema chain is plotting a third New York spot in downtown Brooklyn. Called Alamo Drafthouse City Point, the theater is on track to open in 2015. More after the jump.
The seven-screen theater will be located at (as you can guess from the name) City Point, a large development that includes commercial, retail, hotel, and office components. Other tenants include an A|X Armani Exchange store, which opened in November, and a Century 21 department store, which is slated to open in 2015. While the neighborhood isn't Brooklyn's trendiest, City Point is part of the ongoing effort to build it up. The image above is a rendering of what the new location will look like when completed.
"I am extremely excited about the major development in downtown Brooklyn and proud to be a part of it," said Alamo Drafthouse CEO Tim League in a statement. "Although more than two years on the horizon, I can tell you that the City Point Brooklyn Alamo will be our best theater yet." Obviously, he has to talk up his newest plans, but as a Brooklynite I'm amused by the unintentional implication that the Yonkers and Upper West Side locations aren't all that.