Saorsie Ronan, Gabriella Wilde, Or Alicia Vikander Could Star Opposite Cate Blanchett In Mark Romanek's Cinderella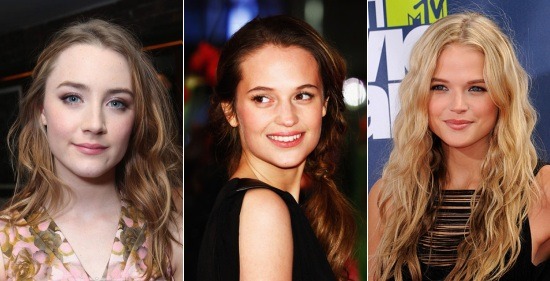 The revisionist Snow White fable The Order of the Seven was scrapped several months ago, but prospective star Saoirse Ronan may get her shot at playing a Disney princess just yet. Provided she can beat out the competition, that is.
Along with Alicia Vikander (Anna Karenina) and Gabriella Wilde (Carrie), the Host actress is one of three names in the mix for Mark Romanek's live-action Cinderella adaptation. Whoever lands the gig will star opposite Cate Blanchett, who's in negotiations to play the evil stepmother. More details after the jump.
According to Variety's Jeff Sneider, Ronan, Vikander, and Wilde are all set to test for the role. Ronan has the highest profile of the three within the U.S., thanks to her work on Atonement, The Lovely Bones, and Hanna — the latter of which also starred Blanchett. She'll next appear in Andrew Niccol's Stephenie Meyer adaptation The Host. The downside for Ronan is that she's so in-demand, she may have trouble fitting Cinderella into her schedule. She recently landed the female lead in Wes Anderson's The Grand Budapest Hotel, and is attached to lead role in Working Title's Mary Queen of Scots.
Swedish actress Vikander isn't as well known as Ronan, but she's on her way up. She's currently starring in Joe Wright's Anna Karenina, and will star opposite Jeff Bridges, Julianne Moore, and Ben Barnes in The Seventh Son. The British-born Wilde was seen last year in The Three Musketeers, and has just wrapped a key role in Kimberly Peirce's Carrie remake.