'A Glimpse Inside The Mind Of Charles Swan III' Trailer: Roman Coppola's Wacky Take On A Relationship Breakdown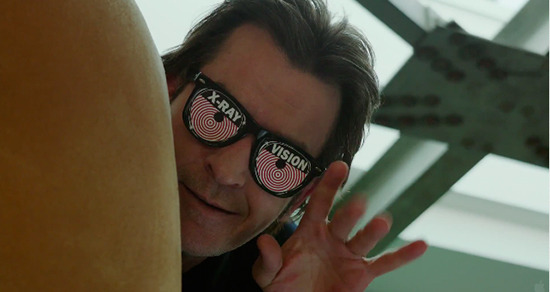 A Glimpse Inside the Mind of Charles Swan III, the second feature from Roman Coppola, runs a breezy 85 minutes. With the release of its first trailer, we can see just what the regular Wes Anderson collaborator has in store to follow up his feature debut from 2001. That debut film, CQ, was an illustration of romantic longing and personal disillusionment filtered through the swinging sci-fi weirdness of Barbarella and Danger: Diabolik. This one, as recent character posters suggested, seems far more light.
In fact this film, in which Charlie Sheen plays a guy who isn't taking his recent breakup all that well, looks like it goes even further out into goofy territory. The trailer sells a wacky comedy in which Sheen, Jason Schwarzman, and Bill Murray are dressed as cowboys and beset by women dressed in the summer 2012 collection from Urban Outfitters. That's just for starters.
Schwarzman looks like he's having a grand old time; in fact, the entire cast looks like they're having the time of their lives. And then there's Sheen, who displays a couple of genuinely affecting glances in this footage, and may just get his own redemption thanks to Coppola. Check out the footage below. 
I can see why reviews out of the Rome Film Fest pegged the film as a superficial pleasure, but the spirit in the trailer looks like good fun. I'm definitely game to see all of these actors running off on a crazy lark. Perhaps there are expectations for something more heavy, given that this is (a) from a Coppola and (b) Roman's first feature in a decade. But I'll take the film represented by that trailer, no problem.
A Glimpse Inside the Mind of Charles Swan III opens on February 8, 2013. Apple has the trailer.
Charles Swan III (Charlie Sheen) has it all. He's an eccentric and highly successful graphic designer whose fame, money, and devilish charm have provided him with a seemingly perfect life. But when his true love, a perplexing beauty named Ivana, suddenly ends their relationship, Charles is left heartbroken. With the support of his loyal intimates– Kirby (Jason Schwartzman), Saul (Bill Murray), and his sister, Izzy (Patricia Arquette) – he begins a delirious journey of self-reflection to try and come to terms with a life without Ivana. "A Glimpse Inside the Mind of Charles Swan III" is a unique relationship film told in a playful and unconventional style.