TV Bits: 'Community', 'The Colbert Report', 'American Horror Story: Asylum', 'Grimm', 'Jonathan Strange & Mr. Norrell', 50 Cent, Brad Pitt, Seth MacFarlane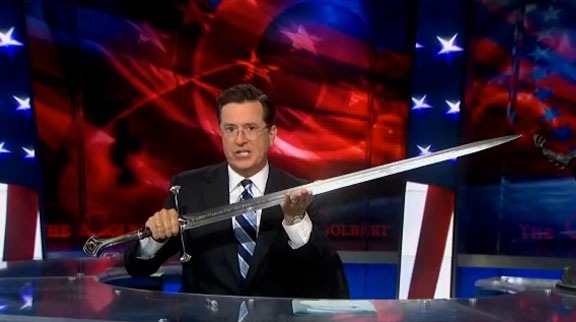 TV-related odds and ends after the jump, including:
How will Community handle Chevy Chase's departure?
Who wants to attend the first ever CommuniCon?
The Colbert Report is doing a Hobbit theme week
50 Cent is developing a new hourlong drama for Starz
Brad Pitt is producing an HBO series about a debt collector
BBC One plans a Jonathan Strange & Mr. Norrell miniseries
NBC schedules Grimm's return and Do No Harm's premiere
Family Guy creator Seth MacFarlane will be on The Simpsons
American Horror Story reveals the present-day Bloody Face
Chevy Chase's exit from Community was sudden, if inevitable, but Pierce Hawthorne's departure won't be quite so abrupt. Inside sources say the series filmed its Season 4 finale out of order once it became clear Chase wasn't sticking around, and that the episode happens to include a cliffhanger that could explain Pierce's disappearance should the show get a fifth season.
In addition, it's rumored that Community has found ways to work Chase into the remaining episodes he didn't shoot — perhaps in animated or non-human form. What awkward exit? Community's fourth season premieres February 7 on NBC. [TV Line]
Community may not have a ton of viewers, to NBC's eternal regret, but the fans it does have are a devoted bunch. A group of them have banded together to plan the first-ever CommuniCon, a convention to be held at Los Angeles City College on February 9 and 10. Not coincidentally, the school is the site of some of the exterior shots on the show.
No confirmation yet on which on- and off-camera talents will be attending, but Dan Harmon's already expressed his interest. Hit the official Tumblr and Twitter pages for more info. [via Splitsider]
If the mere mention of something on The Colbert Report can result in a "Colbert bump," imagine what a whole week of dedicated episodes can do. The Comedy Central series is planning a week of The Hobbit-themed programming on December 3-6, including guest appearances by stars Ian McKellan, Martin Freeman, and Andy Serkis and director Peter Jackson.
Stephen Colbert, a lifelong J.R.R. Tolkien fan, expressed his excitement in a statement. "Elen sila lumenn' omentielvo... I mean that sincerely," he wrote. Translation: "A star shines upon the hour of our meeting." If there was any doubt he deserved that cameo before, there certainly isn't now. [EW]
Curtis Jackson, a.k.a. 50 Cent, is branching out from movies and music to television. The rapper is developing Starz's Power, an hourlong drama about a New York City nightclub proprietor who "skirts the line between legitimacy and criminality."
Jackson will executive produce with Mark Canton (300) and Randall Emmett (End of Watch), who worked with him on the features Freelancers and The Tomb. In addition, Courtney Kemp (The Good Wife) is on board to write and produce. [Variety]
Brad Pitt isn't likely to lead a TV series anytime soon, but that doesn't mean he can't produce one. The actor is producing the HBO drama Paper, through his production company Plan B.
Based on Jake Halpern's New Yorker essay "Pay Up," the series centers around a former gangster in Buffalo, NY who tries to set his life straight by getting a job as a professional debt collector... only to find his new job isn't any less lethal than his old one. [Variety]
Here's a little something for the lit nerds: BBC One has commissioned a six-part minseries based on Susanna Clarke's Jonathan Strange and Mr. Norrell, an alternate history set in 19th century Britain. The plot revolves around a magician and his apprentice who ultimately find themselves at odds with one another. Toby Haynes (Sherlock) is set to direct. [Deadline]
After seven seasons, 30 Rock is winding to an end on January 31. But fear not, NBC viewers, the network has other entertainments in store. The same date will mark the debut of Do No Harm, a new drama about a neurosurgeon with a split personality disorder, Dr. Jekyll and Mr. Hyde-style. The show will air at 10PM.
That pushes Rock Center with Brian Williams out of its regular Thursday evening slot and into Fridays at 10, starting February 8. A month later, Grimm will return from its fall hiatus on Friday, March 8. [TV Line]
Seth MacFarlane is ready to bridge the gap between Homer Simpson and Peter Griffin. The Family Guy creator has scored a guest spot on The Simpsons as charismatic Ben, a man who tries to woo Marge after meeting her on an Ashley Madison-esque website. Comedian Lisa Lampanelli will play his wife. [EW]
American Horror Story: Asylum watchers already know the identity of Bloody Face, the serial killer who terrorized Briarcliff in the '60s. Now his modern-day counterpart has just revealed himself. Check out the picture below to find out who it is. (Spoiler ahead.)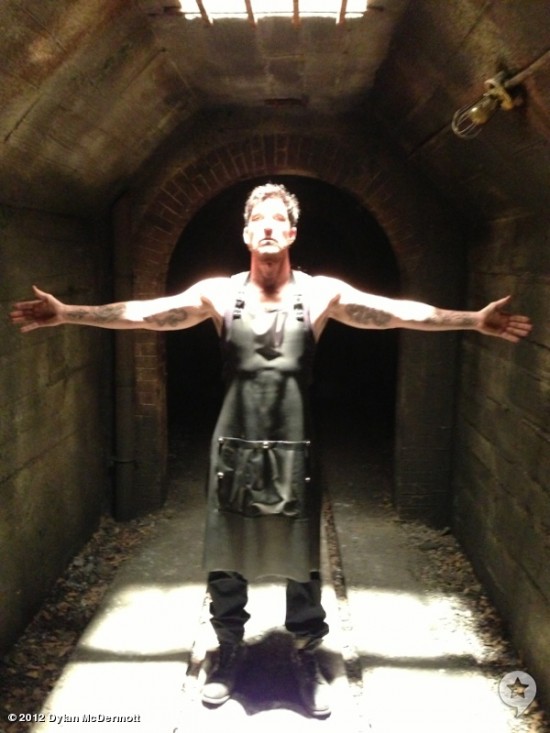 That's right, it's Season One star Dylan McDermott! The actor gave away his big secret via Twitter. [EW]