Star Wars Bits: Critic Calls 'Revenge Of The Sith' The Greatest Work Of Art Of The Past 30 Years, Plus: Keeping 'Episode VII' Secret, New Trilogy Fan Art, Rick Baker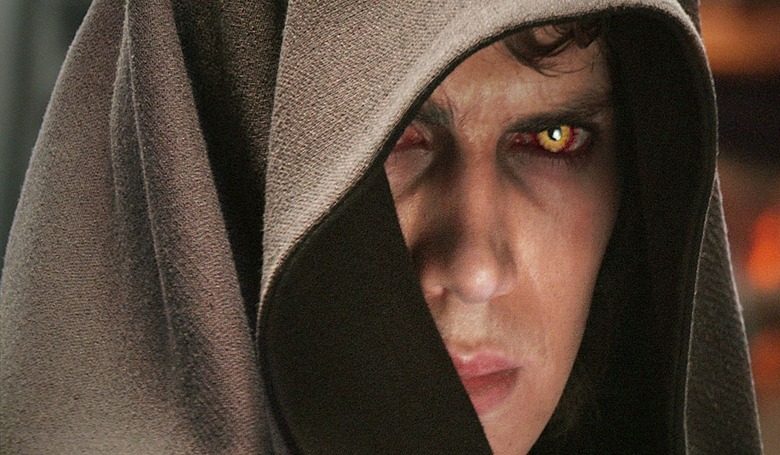 Is Revenge of the Sith the greatest work of our generation? One art critic thinks so. Also after the jump:
Disney chief Alan Horn promises to reveal Episode VII director "soon"
Special effects artist Rick Baker hopes to return for more Star Wars
Episode VII fan art speculates on what we'll see in the new trilogy
"The long finale of Revenge of the Sith has more inherent artistic value, emotional power and global impact than anything by the artists you name," Paglia told Vice in an interview. "It's because the art world has flat-lined and become an echo chamber of received opinion and toxic over-praise. It's like the emperor's new clothes — people are too intimidated to admit what they secretly think or what they might think with their blinders off." Paglia also compares it favorably to Japanese anime, which she says lacks "the overwhelming operatic power and, yes, seriousness of Lucas' Revenge of the Sith."
If you're familiar with Paglia at all, you're likely aware that she has a reputation for courting controversy. In that light, her gushing praise of a film most fans consider a disappointment is perhaps not so surprising. On the other hand, that doesn't automatically make her wrong. What do you think? [THR]
One of the most surprising aspects of the new trilogy announcement was how, well, surprising it was. Few had any inkling that more Star Wars movies were in the works, despite the franchise's curious and passionate fanbase. Asked how he pulled it off, Disney chief Alan Horn joked, "We threatened everybody with a blast from the Death Star!" It may have helped that few people knew about it to begin with. "It was a very small group. Probably a smaller group than knew about the attack on bin Laden!"
But the secret-keeping is far from over. Though rumors about who would direct have been flying around for weeks, the studio's keeping silent on their decision. "I would say you'll know soon," Horn said. "And it's got to come from [Lucasfilm head] Kathy Kennedy — we don't have the company yet!" [Vulture]
Actors and writers aren't the only ones eager to return to the Star Wars franchise. Legendary special effects makeup artist Rick Baker says he'd like to return for the new trilogy, having helped create the cantina scene in the A New Hope. "So much of the stuff I did in the first Star Wars was very quickly done," he said. "Nobody knew that Star Wars was going to be Star Wars."
Though special effects technology has come a great deal since 1977, Baker hopes the next films won't over-rely on digital wizardry. "I think the problem that people have with the digital stuff is the problem I have: Just because you can do anything doesn't mean that you should," he said. "Instead of having a spaceship battle with three space ships they have 3000 space ships. Everything is so big and there's so much going on, you lose reality. It takes you out of it." [THR]
Until we actually know what the new movies will be about, there's nothing to stop fans from speculating wildly. NextMovie has a collection of their favorite 25 pieces of Star Wars Episode VII fanart, envisioning Han and Leia as grandparents, the rise of Boba Fett, and the next generation of Jedi. Browse through a few of them below, and then head to NextMovie for the rest.