Featurettes: New Looks At 'Jack Reacher,' 'A Good Day To Die Hard,' And 'Gangster Squad'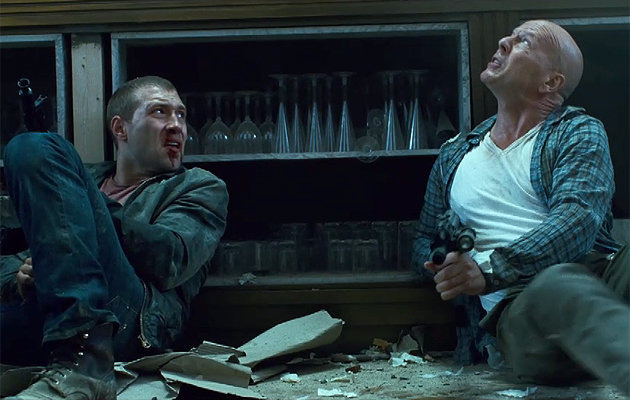 The lightweight behind the scenes featurette is an integral part of the movie promo process, and through these small "making-of" glimpses at various films, we often get to see a bit of new footage. After the break, get some behind the scenes tastes of Jack Reacher, A Good Day to Die Hard, and Gangster Squad, all of which hit in the next couple months.
Yahoo will give you this look at Jack Reacher, which has glimpses of new footage that fans of the book will quickly be able to place. It also puts Lee Child, creator of the character, to work explaining just who Reacher is, and why he's such a great protagonist. In quotes taken from an interview earlier this year, he also briefly emphasizes that Tom Cruise is an acceptable, even great choice for the character, no matter how loud readers might have cried that Cruise is physically wrong for the role.
As a bonus, here's a new clip from the film, via The Film Stage, that gives the full rundown of who Reacher is, and where he's been, and introduces him to some of the main characters in the movie that bears his name. Fans of the character might wonder when Reacher started donating his old clothes, rather than throwing them away.
Christopher McQuarrie wrote and directed Jack Reacher, which also stars Rosamund Pike, David Oyelowo, Richard Jenkins, and Werner Herzog. The film opens on December 21.
The fifth film to feature Bruce Willis as NYC cop John McClane, A Good Day to Die Hard, spent a chunk of this year shooting in Moscow and other parts of the world. We've seen a couple trailers, but here's a behind the scenes featurette that really introduces Jai Courtney as McClane's son; it's the younger McClane that sets this new film in motion, and the plot of the picture has father and son teaming up to kill some scumbags, as Willis says in the footage below.
John Moore directed A Good Day to Die Hard, which also stars Sebastian Koch, Yulia Snigir, Cole Hauser, Amaury Nolasco, Megalyn Echikunwoke, Anne Vyalitsyna, and Mary Elizabeth Winstead. It opens on February 14, 2013.
Finally, Apple has this Gangster Squad featurette, which tries to pin the movie down as a young man's gangster movie. I love this cast, but I'm still left cold by the footage I've seen so far. I hope the film works a lot better than I've been led to believe it will, but if nothing else I'll still be ready to check it out just to see this cast beating the crap out of each other.
Gangster Squad is from Zombieland and 30 Minutes or Less director Ruben Fleischer, and stars Josh Brolin, Ryan Gosling, Nick Nolte, Robert Patrick, Michael Peña, Giovanni Ribisi, Anthony Mackie, Emma Stone, and Sean Penn. It opens on January 11, 2013.