Director Bits: Jennifer Lee To Co-Direct Disney's 'Frozen;' Gus Van Sant Writing Martial Arts Movie; 'The Disappearance Of Alice Creed' Helmer Spins 'Wool'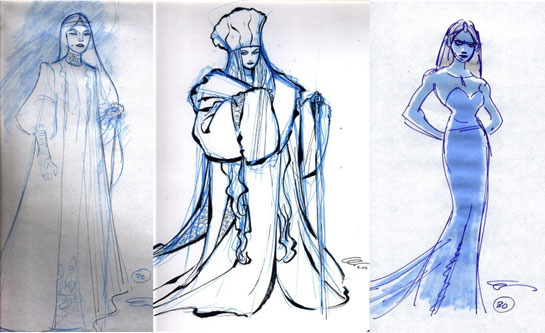 There aren't a whole lot of women working as feature animation directors, but now Disney is giving a leg up to someone new. Jennifer Lee, who was a co-writer on Wreck-It Ralph, has also worked on the script for the upcoming Disney animated feature Frozen, which will feature the voices of Kristen Bell and Idina Menzel in a take on the old tale The Snow Queen.
Now Lee has been named as co-director of Frozen, alongside Chris Buck (Tarzan director, Surf's Up co-director).
After the break, get the plot recap of Frozen, and read about how Gus Van Sant is writing a strange superhero movie, and The Disappearance of Alice Creed director is going post-apocalyptic.
Here's the lowdown on Frozen, from the press release:
When a prophecy traps a kingdom in eternal winter, Anna, a fearless optimist, teams up with extreme mountain man Kristoff and his sidekickreindeer Sven on an epic journey to find Anna's sister Elsa, the Snow Queen, and put an end to her icy spell. Encountering mystical trolls, a funny snowman named Olaf, Everest-like extremes and magic at every turn, Anna and Kristoff battle the elements in a race to save the kingdom from destruction.
Shifting gears, Gus Van Sant may regularly return to a certain sort of indie drama, but he's made a career out of being less predictable than much of the indie crowd that was around when he first got started. And the film he's writing now sounds as if it belongs very much in the unexpected side of his filmography.
In an interview with Movieline, Van Sant explained that an encounter with a woman at Hollywood Boulevard and Gower in LA set him writing a martial arts film that is "a little bit of a superhero movie and a little bit of Stephen Chow." [Kung Fu Hustle and Shaolin Soccer director.] The encounter at the corner led to story elements featuring "a small area of Hollywood that is besieged by crime" and a group of mere mortals who "get together to clean it up."
It's not ready to go yet, but that sounds pretty fantastic. As he writes, Van Sant has been painting portraits of various characters in the script. The idea of animating those particular visions of the cast is probably too much to ask for, right?
Finally, J. Blakeson, who last directed The Disappearance of Alice Creed, is now attached to a new project, and he's working under the guidance of a couple of big names. Ridley Scott and Steven Zaillian (or their companies) have been working with Fox in the wake of the studio optioning the self-published novel Wool, from author Hugh Howey. Now J. Blakeson is in talks to direct the film.
Wool sees humanity reduced to bare remnants, with people housed in silos that dot a post-apicalyptic landscape. It has been a huge success, either for a self-published venture, or a novel backed by an established publisher. So hopefully Fox will get things going quickly. Somehow, it seems that Ridley's projects always take longer to percolate than other people's stuff. [Vulture]