TV Bits: 'Breaking Bad', 'Girl Meets World', 'Two And A Half Men', 'Terriers', 'Blues Brothers', 'Justified', 'Archer', 'Key & Peele', Julian Fellowes, More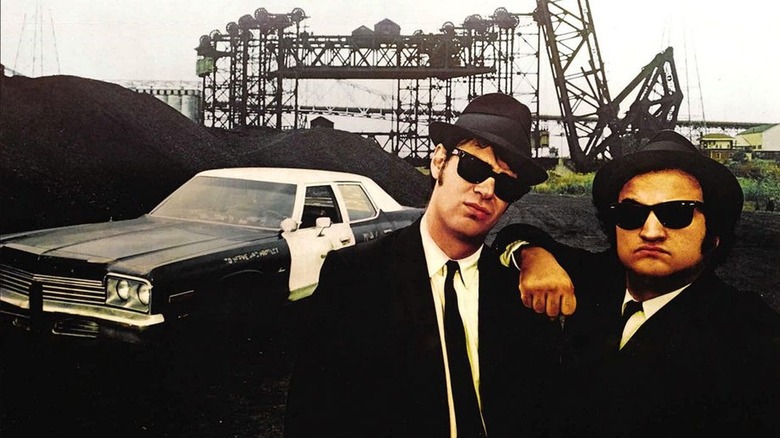 Lots to get through in TV news today, so let's dive right in. After the jump:
Aaron Paul is ready for the last stretch of Breaking Bad
Taryn Manning will recur on Orange is the New Black
Rider Strong hasn't joined Girl Meets World... yet
Angus T. Jones is not leaving Two and a Half Men
Donal Logue misses Terriers as much as you do
Syfy is launching three new reality shows in early 2013
AMC orders dramas from the 1980s and the 1770s
The Blues Brothers is inching toward television
Downton Abbey's Julian Fellowes is coming to NBC
Starz considers a Caesar-centric Spartacus spinoff
Emily Owens, M.D. will end after 13 episodes
Fox sets Mob Doctor's end date, moves Touch's return
FX gives premiere dates to Justified, Archer, and more
Comedy Central picks up Key & Peele for Season 3
Not that we ever had any doubt Breaking Bad's last eight episodes would be every bit as good as the previous 54, but it's nice to hear it anyway. Breaking Bad returns to AMC for its final stretch next summer.
Taryn Manning is joining Taylor Schilling and Laura Prepon on Orange is the New Black, Jenji Kohan's new 13-episode drama for Netflix. Schilling leads the cast as a Brooklynite who's sent to prison for her decade-old connection to a drug runner (Prepon). Manning has been cast as inmate Tiffany Doggett, a born-again Evangelical with anger issues. The series debuts next year. [Deadline]
Boy Meets World's Cory and Topanga are locked to reappear for the Disney Channel sequel Girl Meets World, but their BFF Shawn seems to be sitting this one out. Rider Strong wrote on his website that he has "no official involvement" with the new show, although he's "extremely happy" for his former co-stars Ben Savage and Danielle Fishel.
But feel free to hold out hope that Shawn might pop up at some point down the line. "There might be a chance to see some of the BMW cast in a guest spot, and I think it would be nice to find out where our characters have been all these years," he said. [TV Line]
Despite his religious conviction that Two and a Half Men is "filth," Angus T. Jones isn't leaving the Chuck Lorre comedy just yet. The 19-year-old star apologized for his remarks, and according to TMZ's sources is still set to finish out the current tenth season as contracted. Next season is a different story, however. If the show gets renewed for Season 11 — which is far from a sure thing — Jones is "almost certain" to walk away. [via Screen Crush]
Miss Terriers? So does Donal Logue. Asked by Crave Online whether he ever thinks about what Season 2 might've been, the actor confessed that he does "all the time."
"I had a good hang with [Terriers co-star] Michael Raymond-James yesterday," he said. "We muse about it. We muse about shooting our own little indie film version of season two." Logue and Raymond-James aren't the only Terriers associates to fantasize about a movie sequel — creator Shawn Ryan's expressed his hope of making a film with Kickstarter funds. Not that that makes it any more likely to actually happen... [via Vulture]
Syfy has announced a trio of new reality series coming down the pipeline in early 2013. January 16 marks the debut of Ghost Mine, which explores an allegedly haunted Oregon gold mine. A month and half later, on February 27, the Jason Blum-produced Stranded kicks off a six-episode run. The show will follow a team handling paranormal events.
Lastly, the tentatively titled Notorious Hauntings will premiere in spring 2013. The series revolves around researchers investigating "extreme and dangerous supernatural activity around the world." [Deadline]
Mad Men network AMC has just picked up two more all-American period dramas. Halt & Catch Fire takes place in Texas' Silicon Prairie during the '80s PC boom, and centers around "a visionary, an engineer and a prodigy whose innovations directly confront the corporate behemoths of our time." Production will begin in 2013.
Turn, meanwhile, unfolds during the Revolutionary War. Based on Alexander Rose's book Washington's Spies, the drama follows a New York farmer named Abe Woodhull who forms an unlikely spy ring with his friends to help the American cause. [Mashable]
Downton Abbey creator Julian Fellowes is bringing his special mix of history and soap operatics to the U.S. NBC has hired Fellowes to develop The Gilded Age, set in 19th century New York. The show is described as "an epic tale of the princes of the American Renaissance, and the vast fortunes they made — and spent."
In a press release, Fellowes discussed his plan to explore a period "with dizzying, brilliant ascents and calamitous falls, of record-breaking ostentation and savage rivalry; a time when money was king." And yes, Downton fans, he'll do all this while simultaneously continuing to work on the Brit drama. [Vulture]
The Blues Brothers are getting closer to the small screen, at least in the Great White North. Following a new deal with Canada's Reunion Pictures, the show is being shopped to Canadian networks. A U.S. deal could follow soon after. The script sees the Jake and Elwood out of jail and searching for Elwood's real father. John Belushi's widow Judy Belushi co-wrote the pilot, and Dan Aykroyd is serving as an executive producer. [Variety]
Starz' Spartacus is on its way out after the upcoming third season, but one of its characters could live on a few more years yet. The network is considering a spinoff based on Julius Caesar, who'll be introduced when the show returns in January. Xena creator Robert Tapert will produce. [Vulture]
Apparently the 2012 fall season hasn't been kind to lady doctors who aren't named Mindy. The CW has cancelled Emily Owens, M.D., which has struggled in ratings since the get-go. The show wraps production on its thirteenth and final episode next week. [THR]
Over at Fox, Mob Doctor is not getting a back-nine order, essentially spelling the end of the series. Eight episodes have aired so far, and the network has announced air dates for the last five: Monday, December 3; Saturday, December 29; Monday, December 31, Saturday, January 5; and Monday, January 7.
Season 2 of Touch, which was originally slotted for a fall premiere and then a February 1 debut, has moved back one more week to February 8. On the plus side, viewers can look forward to an extra-long episode on that date — the Season 2 premiere will be two hours long. [Deadline]
FX has updated its midseason premiere schedule. Justified will kick things off on Sunday, January 8 at 10 PM. Here's what you can expect from Season 4, according to the network:
Raylan will start to pick at the thread of a cold case over 30 years in the making, unraveling a riddle that echoes all the way back to his boyhood and his criminal father's bad dealings. Meanwhile, Boyd Crowder finds his grip on Harlan loosening due to a Pentecostal preacher with a penchant for theatrics and a knack for manipulation to rival his own.
The following week will see three more premieres, all on Thursday, January 17. Anger Management will air first at 9:00 and 9:30 PM, followed by Archer at 10:00 PM. Next up will be the new comedy Legit, about a crass standup comedian who moves from Australia to LA, at 10:30. Finally, Totally Biased with W. Kamau Bell will close out the evening block at 11:00 PM. [TV Line]
President Obama's Anger Translator will stick around through the beginning of his second term. Comedy Central has renewed Key & Peele for a third season, consisting of 13 episodes to begin airing in Fall 2013. [Coming Soon]