'Black Rock' Trailer: Mumblecore Stars Katie Aselton And Mark Duplass Make A Generic Horror Thriller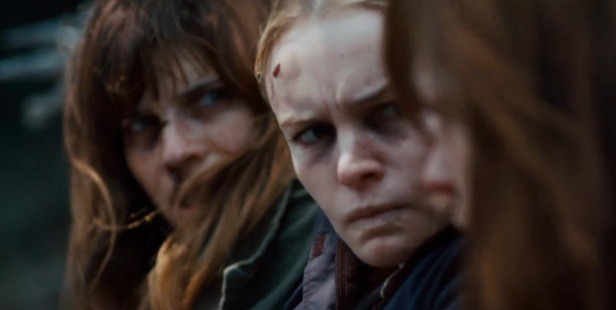 Married couple Katie Aselton and Mark Duplass have worked together on a range of projects, including The Puffy Chair and The League, but their latest collaboration looks like a pretty sharp change of pace. Unfortunately for them, different doesn't always mean better.
Directed by Aselton (The Freebie) from a script by Duplass, Black Rock centers around three women (Aselton, Kate Bosworth, and Lake Bell) on a camping trip on a remote island. They cross paths with a trio of war vets (Will Bouvier, Jay Paulson, and Anslem Richardson) who happily take up the girls' invitation to join their cozy party. After one sexual encounter takes a very nasty turn, however, the ladies find themselves running for their lives. Watch the trailer after the jump.
Neither Duplass nor Aselton are known for their horror work, but Duplass has dabbled in the genre before with the playful Baghead. What makes Black Rock so surprising is that it doesn't seem to be anything but a straightforward thriller. Aselton's previous effort, The Freebie, brought sharp insight into a studio comedy concept. Black Rock, in contrast, seems to have a generic premise with none of the subversion or wit we've come to expect from Aselton and Duplass.
And Black Rock doesn't even seem like a particularly good thriller, at that. The film was coolly received at this year's Sundance Film Festival, with reviewers complaining about the cliched plot, "weak" characterization, "wholly unconvincing" action, "lackluster" direction. Badass Digest even went as far as to wonder, "What happened to this promising filmmaker?" I think it's probably too soon to mourn the decline of Aselton's directing career — everyone's allowed a few missteps, after all — but let's just hope her next outing looks better than this one.
Black Rock drops into theaters on May 17, 2013.