'The Hobbit: An Unexpected Journey' Midnight IMAX Screenings Will Have Four Exclusive Posters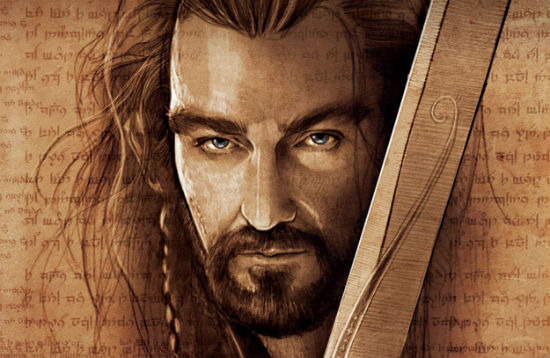 Seriously, Warner Bros., we don't need any more reasons to see The Hobbit: An Unexpected Journey. We're there. Especially in IMAX. Not only will the first part of Peter Jackson's Hobbit trilogy be gorgeous in the giant format, it has the first 9 minutes of Star Trek Into Darkness attached. Apparently, that wasn't thought to be enough incentive, because the studio has now announced four character posters that will be given out exclusively to fans who see the film at 12:01 a.m. screenings on December 14. Check them out below.
Thanks to Superhero Hype for the reveal of these posters. Click here for a list of participating theaters, many of which might already be sold out.
The posters will only be given out at the 12:01 screenings, and all four will come together.
To be clear, IMAX screenings of the film are in 3D but will be in 24 frames per second. Many fans might prefer to see the film in HFR, which is 48 frames per second, a new technology Jackson is pioneering. If that's the case, don't buy these tickets. Or you could do what many of us are probably thinking: see the movie in IMAX, with the Trek footage, get the posters, and then see it in 48 frames later. (Note: Some IMAX are showing in HFR, but it's not true 70mm IMAX.)
The adventure follows the journey of title character Bilbo Baggins, who is swept into an epic quest to reclaim the lost Dwarf Kingdom of Erebor from the fearsome dragon Smaug. Approached out of the blue by the wizard Gandalf the Grey, Bilbo finds himself joining a company of thirteen dwarves led by the legendary warrior, Thorin Oakenshield. Their journey will take them into the Wild; through treacherous lands swarming with Goblins and Orcs, deadly Wargs and Sorcerers. Although their goal lies to the East and the wastelands of the Lonely Mountain, first they must escape the goblin tunnels, where Bilbo meets the creature that will change his life forever... Gollum. Here, alone with Gollum, on the shores of an underground lake, the unassuming Bilbo Baggins not only discovers depths of ingenuity and courage that surprise even him, he also gains possession of Gollum's "precious" ring that holds unexpected and useful qualities... A simple, gold ring that is tied to the fate of all Middle-earth in ways Bilbo cannot begin to know.