'Love Is All You Need' Trailer: 'In A Better World' Director Susanne Bier Moves Into Nancy Meyers Territory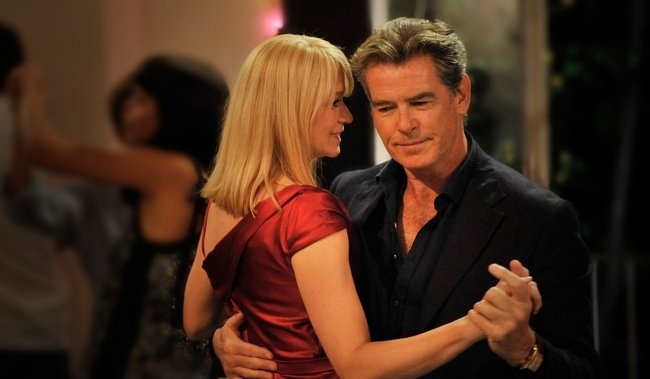 Susanne Bier is best known for dramas like In a Better World and After the Wedding, and she's got still more serious fare coming down the pipeline next year with Serena. But first, she's taking a jaunt to lighter territory with the romantic comedy Love Is All You Need.
Trine Dyrholm stars as a woman struggling through the end of her marriage while battling cancer, while Pierce Brosnan plays a lonely widower. The pair meet en route to a wedding — specifically, the wedding of his son to her daughter. Initially, they rub each other the wrong way, but, well, if you've ever seen any romantic comedy ever, you can guess exactly where this is headed. Watch the trailer after the jump.
[via Trailer Addict]
I'm getting flashbacks to Mamma Mia!, though that's not necessarily a bad thing. At least we won't be forced to suffer through Brosnan's horrid singing this time.
Love Is All You Need boasts all the elements of a standard romcom, but reviews from the film festival circuit indicate that Bier knows what she's doing with them. THR writes that the film "undeniably works," even if it's not particularly fresh, while Screen Daily deems it "a crowd pleaser." Variety is less enamored, calling it "corny as a vat of polenta, but still rib-sticking enough to satisfy those who like lightly seasoned, easily digestible cinematic starch." Not exactly glowing praise, perhaps, but sometimes warm, fuzzy, and predictable is just what the mood calls for.
Love Is All You Need will hit the U.S. sometime next year.
Synopsis:
LOVE IS ALL YOU NEED is a new film by Oscar winner Susanne Bier, written by Bier and Anders Thomas Jensen and starring Pierce Brosnan and Trine Dyrholm. Philip, an Englishman living in Denmark, is a lonely, middle-aged widower and estranged single father. Ida is a Danish hairdresser, recuperating from chemotherapy, who has just learned that her husband is leaving her for a woman half his age from the accounts department. The fates of these two bruised souls are about to intertwine as they embark for Italy to attend the wedding of his son, Patrick, to her daughter, Astrid. With warmth, affection and confidence, Susanne Bier has shaken a cocktail of love, loss, absurdity, humour and delicately drawn characters that will leave only the hardest heart untouched. It is a film about the simple yet profound pains and joys of moving on – and forward – with your life.