'Les Miserables' Review: This Big, Bold, Moving, Hollywood Musical Is One Of The Year's Best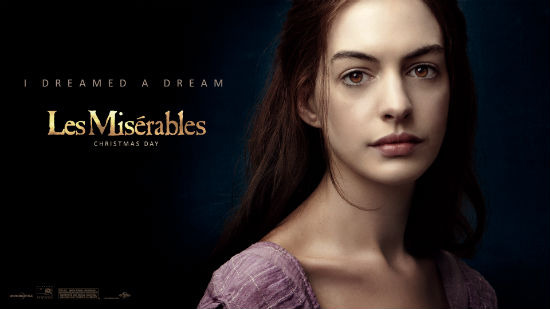 There's a moment about 30 minutes into Tom Hooper's musical adaptation of Les Miserables where you're either with it or not. Anne Hathaway, beaten and bruised, hair raggedly cropped short, sings the iconic song "I Dreamed a Dream." She does so on her own, in a single long-take close-up that lasts at least three minutes. It's Hooper's way of telling the audience this film is going to be dark, it's going to be dirty, it's going to have emotions, and yes, it's going to be these actors (who we know better as Wolverines, Catwomen, Gladiators or Mean Girls) singing — and only singing — their hearts out for almost three hours.
In this moment, Hathaway provides one of the most stirring and impressive emotional moments of 2012, perfect capturing the tone and wonder of Les Miserables. It's mesmerizing, moving and magical.
At its most basic, Les Miserables is the story of Jean Valjean (Hugh Jackman), a man imprisoned for stealing a loaf of bread. After serving a twenty year sentence, he's released, skips parole and makes a new life for himself. But he's constantly looking over his shoulder, mostly for Inspector Javert (Russell Crowe) a lawman tenaciously hunting him. Along the way he meets a troubled woman named Fantine (Anne Hathaway) and helps her by raising her daughter Cosette (Isabelle Allen as a child, Amanda Seyfried as a grown up). Eventually, love both complicates and illuminates those characters as the story dovetails with the French Revolution.
There's a reason this story, originally written by Victor Hugo in 1862, has endured for more than a century. Every few decades it's reinvented, most famously and successfully in 1980 as stage musical which became an all-time worldwide classic. The music and lyrics by Claude-Michel Schönberg, Jean-Marc Natel and Alain Boublil are some of the most recognizable and beautiful in all of musical theater. Without the lyrics, the story can be a bit dry. Hooper's version not only embraces those lyrics, it lives off them. It vibrates from their power from the first frame to last, giving the film an almost kinetic energy.
That music, the only way the characters communicate throughout, pushes the narrative forward. Act one and two are straight Valjean but act three jumps ahead and the link there never feels quite right. It works, but it's a bit of a stretch simply because after becoming comfortable with one set of characters, you have to meet and connect to whole other set. This change is a good example of the film's biggest flaw – it's almost too big. Everything happens incredibly quickly, save for some of the songs where Hooper and company grind out the emotion, and if you can't keep up, the film may lose you.
Hooper's directorial choices won't help that either. Individually, everything he does works incredibly well, maybe too much so. The close-ups force you to feel the character's emotions, the wide angle shots give the film a stage play look, the steadycam and computer moves give scope to 19th Century Paris. On their own, these choices come off incredibly brash and exciting. However, being as each look is so different, it stops the film from having a consistent visual style. Everything feels realistic and individually powerful, but the jumping around can be a tad disconcerting.
Those are the only things holding the film back from being a legitimate musical masterpiece. Throughout, the film is bold, brash yet intimate and emotional thanks in large part to the actors giving brave, heartbreaking performances. No one else in Hollywood could have played Valjean like Jackman does. He's simultaneously sympathetic, masculine, intimidating and kind. Plus, he can sing incredibly well. Russell Crowe's more stoic performance and voice make for a frightening, but welcome foil to Valjean.
As for the supporting cast, Sacha Baron Cohen and Helena Bonham Carter are hilarious, Eddie Redmayne and Aaron Tveit inspire with their confidence and Samantha Barks is beautiful and nuanced. Up and down the roster, each character is well-defined and somehow relatable. They are the beating heart of Les Miserables, giving it street-level believability.
But it's Hathaway, in a small but important role, who steals the show right from the start and helps propel the movie to the heights it eventually reaches. Les Miserables is a large-scale, grimy musical that's both a testament to the talents of the filmmakers but also the strength of the material. It's a musical worthy of Hollywood history and one of the year's best films.
 /Film rating: 9 out of 10
 Les Miserables opens on Christmas Day.