TV Bits: 'Sherlock', 'Downton Abbey', 'How I Met Your Mother', 'Two And A Half Men', 'The Daily Show', 'Justified', Beyonce, Verizon FiOS, And More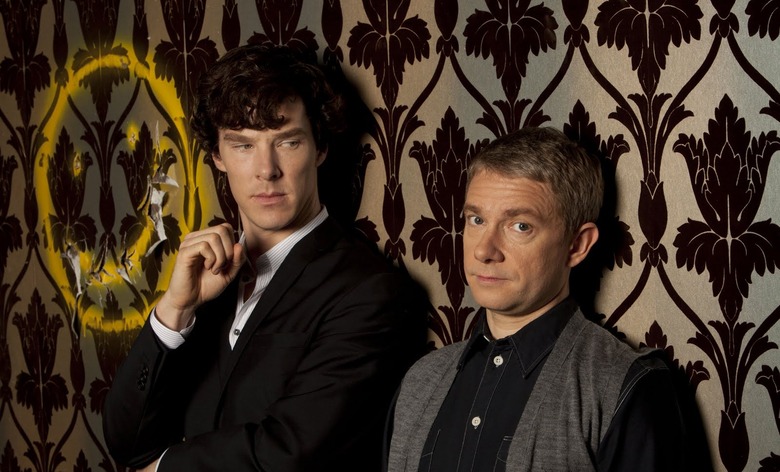 This extra-British installment of TV Bits includes updates on across-the-pond favorites Sherlock and Downton Abbey — but not all of it is good news. After the jump:
BBC's Sherlock might not come back until 2014
Downton Abbey gets picked up for a fourth season
... but Dan Stevens, a.k.a. Matthew Crawley may be out
Watch the trailer for BBC America's Ripper Street
HIMYM is getting a special hourlong Christmas episode
A Two and a Half Men star urges viewers to stop watching his show
The Daily Show is losing correspondent Wyatt Cenac
Ben Savage and Danielle Fishel join Girl Meets World
Beyonce will direct a documentary about herself for HBO
Get your first peek at Patton Oswalt on FX's Justified
HBO's Girls reveals the first images from Season 2
See how BSG: Blood and Chrome made its green screen universe
AMC warns FiOS customers that they could lose AMC channels
Sources at the BBC indicate the show is likely to return in late 2013 in the U.K., rather than summer 2013 as previously hoped. That puts Sherlock's U.S. premiere date in late 2013 or even early 2014, according to a spokesperson for PBS. [EW]
Slightly more cheerful is the news that ITV has picked up Downton Abbey for a fourth season, which is expected to air in the U.S. on PBS. As with Seasons 2 and 3, Season 4 will consist of eight episodes and a Christmas special. Production will begin in February. [TV Line]
Unfortunately, even that news comes with a possible catch. The Daily Mail reports that Dan Stevens, who plays Matthew Crawley, will exit the series after the first episode of Season 4. Brit tabloids are notoriously unreliable about casting news, though, so Downton Abbey fans can keep their fingers crossed that this one is pure BS. [via Vulture]
Further bad news for fans of Brit TV: BBC One has announced that Merlin will end its run after its current fifth season, which concludes with a two-part finale this winter. But if it's any consolation, the fantasy world may not be disappearing entirely. The producers and co-creators are considering spinoffs based within the same universe. [THR]
BBC America has just revealed a trailer for Ripper Street, a new drama set in late 19th century London. Matthew Macfadyen stars as a policeman trying to maintain order in the wake of the Jack the Ripper murders. Watch it below:
Ripper Street debuts January 19. [via Vulture]
Now, to head back to this side of the Atlantic...
It's somehow still unclear whether this'll be the last season of How I Met Your Mother, but the CBS comedy is certainly pulling out all the stops. The series is preparing to present its longest episode yet, an hourlong Christmas episode to air December 17.
What happens in the episode is still unclear, but it doesn't sound like they had any trouble filling up that hour. Creator Craig Thomas promises via Twitter that "Some really big crap happens!" in the episode, and recalls that "Our amazing #himym cast made us behind-the-cameras folks cry more than once while shooting it. I mean, not me. Other people. Crybabies!" [via Screen Crush]
Charlie Sheen made no secret of his discontent with CBS' Two and a Half Men on his way out, but apparently he wasn't the only star unhappy with the series. Angus T. Jones, who plays the "half man" (i.e., teenager) of the title, has publicly spoken out against the comedy, deeming it "filth" and urging viewers to stop watching the show.
Jones was inspired to speak out during a religious testmony for Chris "The Forerunner" Hudson, a Seventh-Day Adventist pastor known for his conspiracy theories:
Jake from Two and a Half Men means nothing. He is a non-existent character. Two and a Half Men – if you watch Two and a Half Men, please stop watching Two and a Half Men. I'm on Two and a Half Men, and I don't want to be on it. Please stop watching it. Please stop filling your head with filth. Please.
People say it's just entertainment. The fact that it's entertainment — do some research on the effects of television on your brain and I promise you you'll have a decision to make when it comes to television and especially what you watch on television. It's bad news. It's bad news.
Jones, who earns $350K per episode, is contracted to star in the series through its current tenth season. Watch his testimony in full below (Two and a Half Men comments start around 7:30):
[via Vulture]
The Daily Show is about to get ever so slightly less deadpan. Wyatt Cenac is leaving the Comedy Central series after the December 13 episode, which will be the last of 2012. Cenac's departure doesn't come as much of a surprise, seeing as his standup career's been picking up speed over the past few years, but we'll miss him all the same. [Vulture]
Beyoncé Knowles is preparing to make her directorial debut, and she's starting with a topic she knows well. The musician is helming an HBO documentary about herself, including "her family life including her return to the spotlight after the birth of her daughter." The show will premiere February 16, 2013 on the premium cable channel. [Vulture]
Twelve years after Boy Meets World went off the air, Ben Savage and Danielle Fishel are preparing to reprise their roles for the Disney Channel sequel Girl Meets World. Savage and Fishel hinted at their return shortly after news about the new series broke, and now it's official.
The pilot picks back up with Cory (Savage) and Topanga (Fishel), now a happily married couple with a 13-year-old daughter named Riley who'll serve as the show's protagonist. Casting for Riely is still underway. [TV Line]
The prequel series Battlestar Galactica: Blood and Chrome stands apart from Battlestar Galactica and Caprica in a number of ways, and among them is its liberal use of green screen. According to exec producer David Eick, some 90% of the series' universe is digital effects. Click over to io9 to see a brief behind-the-scenes feature about the crazy FX work that goes into making the show.
As the end of the year approaches, so do a couple of highly anticipated January premieres. FX has just unveiled a first look at Patton Oswalt on the upcoming fourth season of Justified, which kicks off January 13. Oswalt plays Bob Sweeney, a constable who went to high school with Raylan Givens (Timothy Olyphant).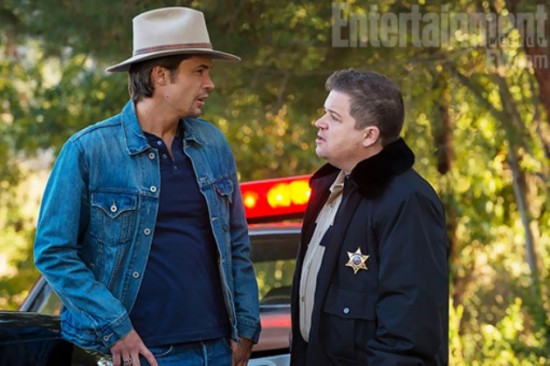 Oswalt says of his character:
It's a guy that basically sorta wants to be Raylan Givens, but is not, which I think most men can relate to. He thinks he has a dark, mysterious, messed-up past, but there's hints that everybody already knows about it and doesn't care.
I do get to do stuff that's a combination of, like, super funny and super funny violent. I'll leave it at that.
Read more at EW.
EW also has the first peek at Season 2 of HBO's Girls, which also begins January 13. A photo of Adam (Adam Driver) looking grouchy in a leg cast suggests we aren't too far removed from the events of the Season 1 finale. Hannah (Lena Dunham), Jessa (Jemima Kirke), Marnie (Allison Williams), and Elijah (Andrew Rannells) also appear.
Patrick Wilson, Shiri Appleby, Donald Glover, and Rita Wilson are among the guest stars lined up for the next season. [via The Playlist]
Dish subscribers just recently got their access to AMC networks restored, but now Verizon FiOS customers may be next to worry. The network is reaching out to FiOS' 4.6 million customers to inform them that that they are "about to lose" AMC channels unless AMC and Verizon are able to renew a programming deal that expires at the end of the year.
For its part, Verizon accuses AMC of trying to "scare" its customers. It's "unfortunate that [AMC] has decided to unnecessarily publicize these discussions, but not surprising as they have a history of using their viewers as pawns in their negotiations with distributors," they write. At least Mad Men and Breaking Bad aren't scheduled to return for several more months — surely the issues will be resolved by then, right? [Deadline]