Star Wars Bits: Longtime Lucasfilm Producer Rick McCallum Retires, Plus Jon Favreau, Derek Jacobi, Carrie Fisher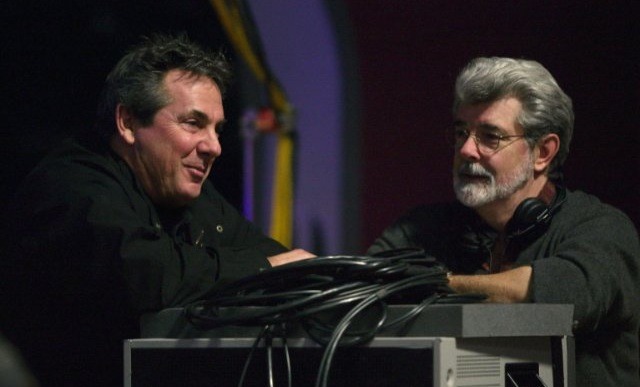 Not even a long, tryptophan-fueled weekend can slow down the Star Wars talk. After the jump:
Jon Favreau raises eyebrows by tweeting about Stormtroopers
Sir Derek Jacobi wants in on the new Star Wars trilogy
Carrie Fisher was kidding about being cast in Star Wars VII
Longtime producer Rick McCallum has retired from Lucasfilm
A screenwriter says timing will be tricky on Star Wars VII
Jon Favreau's name has come up a few times in the ongoing fan discussion about who should direct the next Star Wars, and the filmmaker himself doesn't exactly seem to be avoiding the rumors. Over the weekend, Favreau further fanned the flames of speculation by tweeting about a custom Stormtrooper samurai Munny:
It's worth pointing out that Favreau's spoken before about his excitement for the new films, and that some notable names including Kevin Smith have voiced their support for the Iron Man director as a possible candidate. I also couldn't help but notice that Favreau's Twitter icon is an Iron Man-styled R2D2, which would certainly be appropriate if he were in the running for the gig. On the other hand, he's an avowed Star Wars lover, so it's possible he's just interested in the toy for the same reason any other fan would be.
While plenty of actors have acknowledged that they'd be "open" to appearing in the new Star Wars, one respected thespian isn't waiting around to be asked. In a conversation with Radio 4's Front Row, Sir Derek Jacobi expressed his interest in no uncertain terms.
"My ears pricked up when it said that Disney was buying Star Wars. Oh, come in Sir Alec Guinness! Yes, on to the agent immediately!" he said. "I'd love to do my big franchise movie. Ian's got his Gandalf, Pat Stewart has his Star Trek, Michael Gambon has got his Dumbledore... They are running out of these old men, you see. I have to be the next!" Without knowing much about the script, we have no idea how good Jacobi's odds are — but Disney could certainly do worse, don't you think? [Den of Geek]
Earlier this month, Carrie Fisher appeared to confirm her involvement in Star Wars VII when she responded to the question with "Yes... I thought it was already common knowledge." However, the actress has since backtracked and is now insisting that she was just joking at the time.
"She hasn't confirmed anything," says a rep for Fisher. "Everything you've seen has been tongue-in-cheek." Fisher has previously acknowledged that she would be interested in returning to the series, but it seems nothing's publicly been confirmed just yet. [E! Online]
Disney appears to be drawing upon old and new talents for the next phase of the Star Wars series, but one longtime Lucasfilm figure who won't be involved is Rick McCallum. The producer, who worked on the Star Wars Special Editions, the prequel trilogy, The Young Indiana Jones Chronicles, and more, has quietly "retired from Lucasfilm," according to Lucasfilm's director of content management and fan relations Steve Sansweet. News of McCallum's departure initially got little attention, coming as it did just one day after the Disney deal announcement.
No reason has been given for his decision at this time. McCallum's exit is something of a surprise, seeing as he was still working on a live-action Star Wars TV series as of a few months ago. It's unclear where McCallum's retirement puts that project, but the signs aren't promising. Even before the deal, McCallum cited the show's non-kiddie feel as one of the major roadblocks to getting it made. It seems unlikely that a family-friendly studio like Disney would be on board with what McCallum has described as "Deadwood in space." [East Valley Tribune]
Making a new Star Wars trilogy is a daunting task for any number of reasons, but screenwriter Ron Shusett says the biggest of all may be the timing. Shusett is not involved with the franchise, as far as we can tell, but as the scribe behind Alien and the original Total Recall he knows a thing or two about high-profile sci-fi projects.
In a conversation with THR, Shusett approved of Lucasfilm's choice of Michael Arndt to write Star Wars VII, but noted that Arndt would have to work quickly to get the film in theaters by 2015 as planned. "I don't think you could put a timetable on that, because the director isn't even there yet. What if they're not on the same page?" he said. "It takes you until it takes you."
Arndt agreed that the choice of director was "crucial," but suggested that the next steps could prove even more challenging. "I don't think getting a director is a formidable challenge. I think the next barrier or challenge would be the casting. That's the tricky or difficult part."