Early Buzz: 'Zero Dark Thirty' Ignites Oscar Talk With Intensity And Accuracy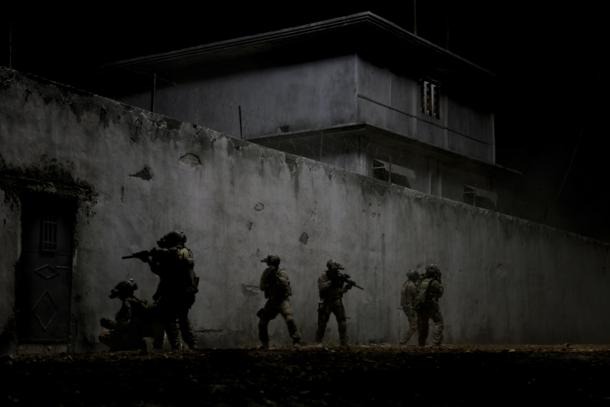 The long Thanksgiving weekend brought major buzz for two potential Oscar contenders: Tom Hooper's Les Miserables and Kathryn Bigelow's action procedural Zero Dark Thirty. Both films are from recent Best Director Oscar winners so expectations were predictably high for each. However, while Les Mis is a known property, a dramatization of the hunt for Osama Bin Laden is much more of a mystery, making the buzz out of those screenings even more intriguing.
Bigelow, along with Oscar-winning writer Mark Boal, was developing a film about the search for the most wanted man on the planet when United States military forces killed him. That completely changed their movie and made its completion even more time-sensitive. The film is now done, set for release December 19, with an all-star cast including Jessica Chastain, Mark Strong, Chris Pratt, James Gandolfini, Kyle Chandler and Joel Edgerton. The first screenings took place over the weekend, and reactions to them were incredibly positive, with an eye on another Oscar run for Bigelow and Boal. Get some early buzz after the break.
Here are some quotes from reviews in the trades and major print publications:
Richard Corliss – Time Magazine
First and last, Zero Dark Thirty is a movie, and a damned fine one. Like Argo — which, with all due respect to director Ben Affleck and the film's many admirers, ZDT blows out of the water — it dramatizes a true-life international adventure with CIA agents as the heroes. (And it takes fewer fictional liberties with the source material than Affleck did.) In the tradition of Truman Capote's In Cold Blood and Tom Wolfe's The Right Stuff, Boal tracked down the particulars of a sensational exploit and, skipping the "non-fiction novel" stage, created an original screenplay that provides a streamlined timeline of the hunt for bin Laden. The word "docudrama" doesn't hint at Boal's achievement. This is movie journalism that snaps and stings, that purifies a decade's clamor and clutter into narrative clarity, with a salutary kick.
Todd McCarthy – Hollywood Reporter
Whether you call it well-informed speculative history, docudrama re-creation or very stripped-down suspense filmmaking, Zero Dark Thirty matches form and content to pretty terrific ends. A long-arc account of the search for Osama bin Laden seen from the perspective of an almost insanely focused female CIA officer who never gives up the hunt until the prey ends up in a body bag, Kathryn Bigelow's and Mark Boal's heavily researched successor to Oscar winner The Hurt Locker will be tough for some viewers to take, not only for its early scenes of torture, including waterboarding, but due to its denial of conventional emotionalism and non-gung ho approach to cathartic revenge-taking. Films touching on 9/11, such as United 93, World Trade Center and Extremely Loud & Incredibly Close, have proved commercially toxic, and while this one has a "happy" ending, its rigorous, unsparing approach will inspire genuine enthusiasm among the serious, hardcore film crowd more than with the wider public.
Peter Debruge – Variety
Considering how seldom female storytellers have been given a chance to operate on this scale, it's fair to let Bigelow overturn narrative expectations to some degree. The ultra-professional result may be easier to respect than enjoy, but there's no denying its power, both as a credible reimagining of what went down and a welcome example of distaff resolve prevailing in an arena traditionally dominated by men.
The Variety review is decidedly less enthusiastic than the others, but certainly not negative. It's a nice alternative review. Let's continue with some quotes from some other respected critics and journalists:
Anne Thompson – IndieWire
The last section of the movie makes a satisfying finale, as real tension builds before an unseen president Barack Obama finally gives the green light to order the Navy SEALs to fulfil Maya's mission. The irony, concluded Boal, was that "the leader of Al Qaeda was defeated by the specter he feared most: a liberated western woman."
No question that this movie advances the careers of Chastain and Clarke and will knock Ben Affleck's popular "Argo" down a notch–it's that film's more advanced and contemporary cousin, on steroids. (It may not be as successful at the box office, however. Bigelow has never been eager to please. And yet curiosity about its content may drive audiences to check it out–it brooks comparison to 1976 Oscar-winner "All the President's Men.")
James Rocchi – Box Office.com
The decade-long manhunt for Osama Bin Laden races by in a 159-minute adrenaline-fueled chase in Kathryn Bigelow's Zero Dark Thirty, which unfolds with certainty and smart decisions on both sides of the camera. It's a rarity, a truly entertaining film that never condescends to its audience or cheapens history and truth. Zero Dark Thirty lacks the existentialist peril and high drama of Bigleow's previous, Oscar-winning The Hurt Locker, but replaces those showy-but-strong elements with both tension and truth in the pursuit of drama, fiction lightly draped over fact.
David Poland – Movie City News
It's an odd thing, realizing as you watch, that you are seeing a movie that is a step above most of what you have seen in the commercial cinema this year. My pulse gets faster, I start being a little hyper-vigilant, even though I don't take notes in movies – at least the first time through – and I start hoping, beat after beat, scene after scene, not to let the high disappear. And that's what I felt from the very first minutes of Zero Dark Thirty.
Next up, some tweets from other journalists you probably follow:
Zero Dark Thirty builds to an intense finish obviously. Could've been two separate films (will write about this). Give J Chastain the Oscar.

— Alex B. (@firstshowing) November 26, 2012
Zero Dark Thirty is definitely a contender! Chastain is really good! Very intense!

— Wilson – BFTV (@WMorales_BFTV) November 26, 2012
Finally, The Hollywood Reporter and Deadline dissect the film's Oscar chances based on all these reactions.
These will continue to keep rolling in and I myself get to see the film on Tuesday afternoon so expect a reaction soon after that. How much more excited are you for this film after reading these reactions?