Sequel Bits: 'Wayne's World 3', 'Paranormal Activity 5', 'Journey 3', 'Machete Kills', 'The Host 2'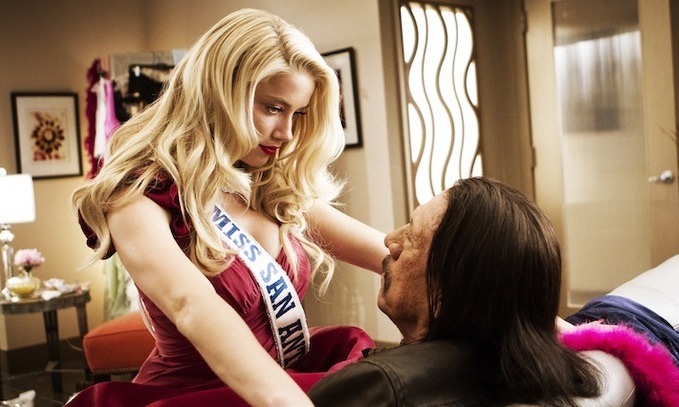 Robert Rodriguez's Machete has gotten himself into some hairy situations and lived to tell the tale, but now a lawsuit could shut him down for good. Also after the jump:
No, Mike Myers has not written Wayne's World 3
Paranormal Activity 5 gets a fall 2013 release date
Josh Hutcherson confirms his return for Journey 3
See a goateed Mirror Spock from IDW's Star Trek comics
The sequel to Bong Joon-ho's The Host reveals footage
A representative for Myers broke the bad news: "This is completely false. There is no script and he is not working on one." Bummer. Is it too much to hope the buzz generated by the fake project might inspire Myers to consider a real sequel? [Film School Rejects]
It took three years for Paramount to follow up Paranormal Activity with Paranormal Activity 2, but since then the horror series has reliably churned out new installments just in time for Halloween. Next year will be no exception. The studio has just dated Paranormal Activity 5 for October 25, 2013.
No director or stars have been announced just yet, but Jason Blum will return to produce. Paranormal Activity 5 will actually be the second entry in the franchise to hit next year; there's also a Latino-themed spinoff helmed by Chris Landon that's due out in the spring. [Deadline]
The Hunger Games star Josh Hutcherson's already got his 2013 all figured out, and most of it will be devoted to sequels. In an interview with MTV, he revealed that he'd be returning to the Journey to the Center of the Earth franchise for the third entry — just as soon as he wraps The Hunger Games: Mockingjay, Parts 1 and 2.
"We're shooting the next two Hunger Games movies back-to-back, and then I'm shooting another Journey, so as long as the world doesn't end, I have a busy 2013 coming up," he said. Hutcherson's return has been expected for months now, but now we can mark it as confirmed. Hutcherson's Journey 2 co-star Dwayne Johnson is also on board to reprise his role. The Brad Peyton-directed family adventure will hit in 2014. [via Bleeding Cool]
Robert Rodriguez' Machete Kills has just hit a major snag. Overnight Productions has filed a $2 million lawsuit against Rodriguez's Quick Draw Productions, claiming that the latter has been dishonest about Texas tax credits and budget information. The company is looking to terminate an earlier agreement that granted Rodriguez rights to make another movie about the character played by Danny Trejo.
Without delving too deeply into the dry specifics, if Overnight is successful, the Machete sequel rights will revert to them. That means they could halt the release of Machete Kills, which distributor Open Road had planned for a 2013 bow. [Deadline]
We have no idea whether Star Trek Into Darkness brushes up against the parallel Mirror universe, but IDW's Star Trek comic is apparently going there. The cover of Issue #15, by Tim Bradstreet, shows an evil, goateed Mirror spock based on Zachary Quinto's portrayal in J.J. Abrams' films. See below: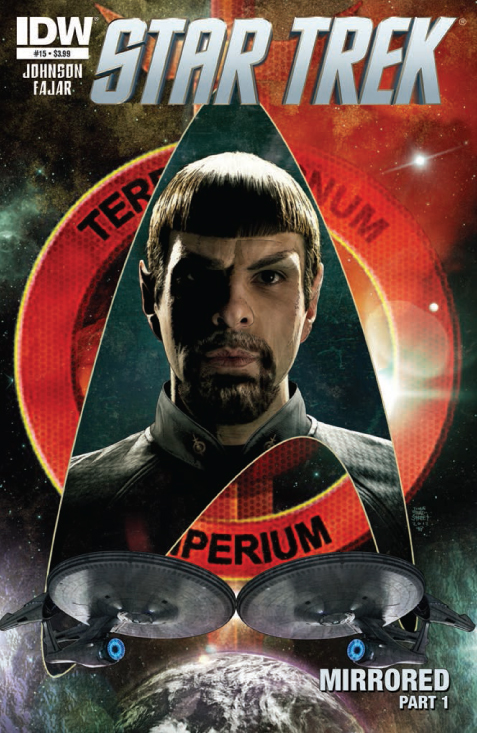 Is this a clue about the plot of Star Trek Into Darkness? Honestly, probably not. But at least now we know that if Abrams' timeline ever heads in that direction, Quinto won't look half bad. Head to StarTrek.com for a preview of the issue, including a peek at an alternate cover with Zoe Saldana's Uhura. Star Trek Into Darkness opens May 17. [via io9]
The very first footage has dropped from The Host 2, which, to be clear, is not a ridiculously premature sequel to Andrew Niccol's Stephenie Meyer adaptation. Rather, it's a follow-up to the 2006 Korean monster movie The Host, which was directed by Bong Joon-ho.
The new one is being helmed by Park Myeong-chan, a commercials director. The clip below includes a monster attack scene, plus a breakdown of the CG work by Korean VFX house Macrograph. Keep in mind that the movie will be released in 3D, so the creature and the debris will be flying right in your face.
A release date has not yet been announced. [Twitch]