'Jack The Giant Slayer' Trailer: In The HD Era, Can Fantasy Films Ever Look "Real"?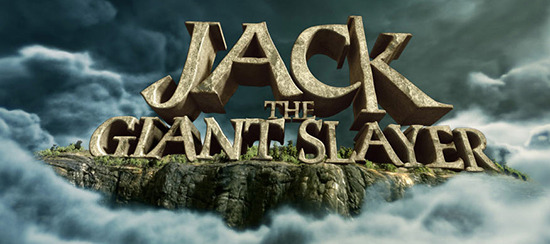 The big argument against Peter Jackson's use of high frame rate technology for The Hobbit, when previewed months ago, was that the result didn't look like "cinema." Rather, it looks real, which, ironically, means it looks fake. The increased detail presented in the HFR projection made costumes and sets look like mere costumes and sets, said naysayers. The illusion of realism is destroyed by... actual realism.
Bryan Singer shot Jack the Giant Slayer on state of the art HD cameras — in part for the advantages they offer in low light scenarios, and for shooting 3D — and did not use HFR tech. And yet, this new trailer for the film, which should have the benefit of months of extra effects polish, doesn't look very convincing at all. It's not just the effects; the giants look fine, if overly indebted to Jackson. Rather, it's the fact that none of the actors look like they are anything other than people dressed up in costume, and none of them look like they're in the same world with the stuff around them. The effect isn't good.
Take a look below.
The problems here aren't new — George Lucas fought them with the Star Wars prequels. But those films were among the first to be shot on early digital cameras, and they can be seen as a pointer for the future, albeit not in the way intended. New fantasy films like Jack don't just feature a disconnect between actors and effects, but between actors and the sense of realism they're trying to create, thanks to the all-seeing lens.
In the end, the fact that Jack the Giant Killer looks pretty bad, as a piece of storytelling, is secondary. Will this movie be remembered months after release? Seems unlikely. The most interesting about Jack might be that it helps argue the notion that as cameras and lenses are increasingly able to capture a perfect vision of reality, the standard approach to making fantasy films has to change.
Jack the Giant Slayer opens on March 1, 2013. Apple has the trailer.
Jack the Giant Slayer tells the story of an ancient war that is reignited when a young farmhand unwittingly opens a gateway between our world and a fearsome race of giants. Unleashed on the Earth for the first time in centuries, the giants strive to reclaim the land they once lost, forcing the young man, Jack (Nicholas Hoult) into the battle of his life to stop them. Fighting for a kingdom, its people, and the love of a brave princess, he comes face to face with the unstoppable warriors he thought only existed in legend–and gets the chance to become a legend himself.