Peter Jackson Answers High Frame Rate 'Hobbit' Questions; Plus Animal Controversy And A New Sculpture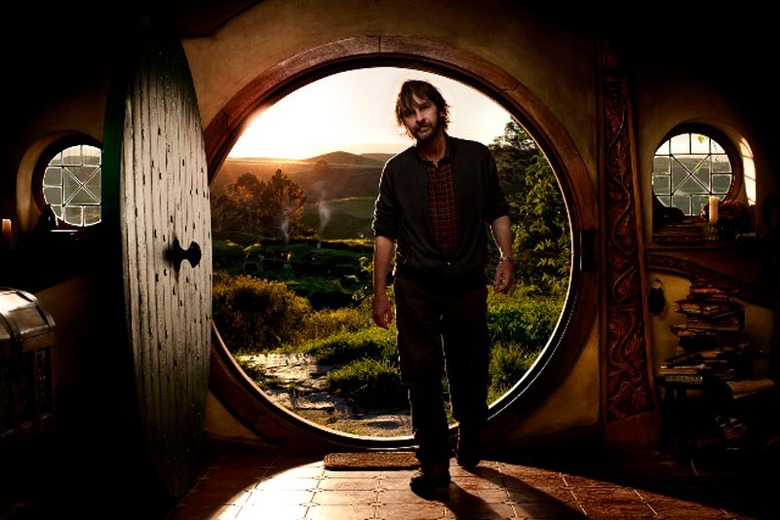 Advance tickets for The Hobbit: An Unexpected Journey are now on sale, and anyone buying has a big question to answer: how do we want to see Peter Jackson's latest J.R.R. Tolkien film? The choices are plentiful: 2D, 3D, IMAX 3D or HFR 3D. Then you have a preview of Star Trek Into Darkness to factor in, too.
Peter Jackson certainly hopes you'll choose the format you're least familiar with. The Oscar winning director took to Facebook to explain his reasoning behind shooting the trilogy at double the frame rate of every other movie, and to explain the historical significance of the technology. After the jump, you can read his Q&A on that as well as about mounting controversy about animal deaths on set, and more Hobbit news.
On Jackson's Facebook, he answered several questions about High Frame Rate, including why he decided to shoot the film at 48 frames per second:
We live in a rapidly advancing digital age. Technology is being continually developed that can enhance and enrich the cinema-going experience. High Frame Rate shooting for a mainstream feature film has only become viable in the last year or two, and yet we live in an age of increasing home entertainment. I started shooting The Hobbit films in HFR because I wanted film audiences to experience just how remarkably immersive the theatrical cinema experience can be.
And here are his thoughts on the shooting in this format;
I think HFR is terrific. As a filmmaker, I try to make my movies immersive. I want to draw the audience out of their seats, and pull them into the adventure. That is the experience I hope to offer moviegoers no matter which format they choose at the theater. While I personally prefer watching The Hobbit: An Unexpected Journey in HFR 3D, I can assure you that every format will provide you with an incredible and immersive experience.
HFR 3D is "different" — it won't feel like the movies you're used to seeing, in much the same way as the first CDs didn't sound like vinyl records. We live in an age when cinemas are competing with iPads and home entertainment systems. I think it's critical that filmmakers employ current technology to increase the immersive, spectacular experience that cinema should provide. It's an exciting time to be going to the movies.
He then talked about its relation to the history of cinema too. It's a great read.
Next up, The Associated Press reports that conditions on the set of The Hobbit trilogy resulted in the deaths of 27 animals, a big no-no on any film set. While no animals were actually harmed during filming, reportedly there were "death traps" such as bluffs and sink holes in the areas where the animals were housed. Read more of the details over at the AP link.
The producers quickly issued a statement denying these claims. Here's a segment of that courtesy of Deadline.
The producers of The Hobbit take the welfare of all animals very seriously and have always pursued the highest standard of care for animals in their charge. Any incidents that occurred that were brought to their attention as regards to this care were immediately investigated and appropriate action taken. This includes hundreds of thousands of dollars that were spent on upgrading housing and stable facilities in early 2011.
The producers completely reject the accusations that twenty seven animals died due to mistreatment during the making of the films. Extraordinary measures were taken to make sure that animals were not used during action sequences or any other sequence that might create undue stress for the animals involved. Over fifty five per cent of all shots using animals in The Hobbit are in fact computer generated; this includes horses, ponies, rabbits, hedgehogs, birds, deer, elk, mice, wild boars, and wolves.
Later in the statement, they accuse the allegations to be part of a retaliation from some trainers who were fired from the production. It'll be interesting to see how, or if, this plays out beyond these statements.
Finally, on a lighter note, a New Zealand theater installed a massive Gandalf statue to countdown to the premiere. Thanks to First Showing for the heads up.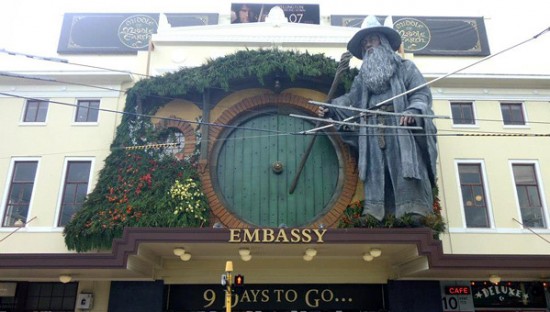 The Hobbit: An Unexpected Journey opens December 14.