New Images: Blue Sky's 'Epic' Starring Amanda Seyfried, Christoph Waltz, Colin Farrell, Beyonce Knowles, And More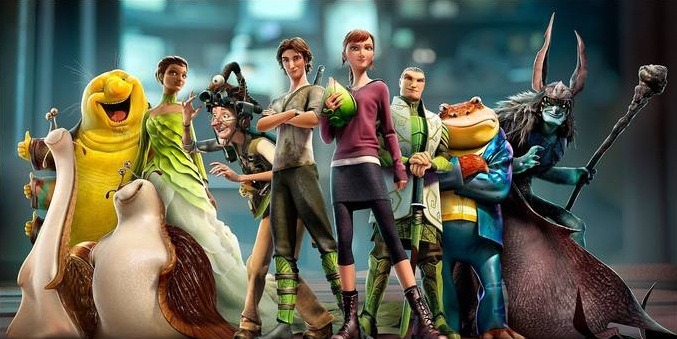 The first teaser trailer for Blue Sky's CG-animated Epic was wonderful at showing off its fantastical forest setting, but not so much at introducing us to the characters. We heard more of Snow Patrol's "The Lightning Strike" than we did dialogue from the cast, despite a star-studded lineup including Amanda Seyfried, Josh Hutcherson, Christoph Waltz, Colin Farrell, Beyonce Knowles, Jason Sudeikis, Aziz Ansari, and Chris O'Dowd.
But now a fresh batch of images have cropped up to show us who's who in the picture, and what they're all doing there. Hit the jump to see images of Hutcherson and Farrell's miniature Leafmen warriors, Knowles' Mother Nature incarnate, Waltz's villainous force of decay, Ansari's rather Tom Haverford-esque slug, and more.
The image quality isn't the greatest, which is too bad because Epic itself looks quite pretty. Here's who we're looking at:
Seyfried anchors the cast as MK, an ordinary teen girl who somehow gets miniaturized and winds up in an epic forest battle between good and evil.
Sudeikis plays MK's father Professor Bomba, a kooky scientist.
Knowles plays Queen Tara, a Mother Nature-like force sworn to protect the forest.
Hutcherson plays Nod, a reluctant young Leafman warrior.
Farrell plays Ronin, a more seasoned and stoic Leafman warrior.
Waltz plays the villainous Mandrake, leader of the destructive Boggans.
Ansari plays Mub, a slug who fancies himself a ladies' man.
It's too soon to guess how the final product will turn out, but at least they're off to a strong start with that cast. Directed by Chris Wedge (Ice Age, Robots), Epic opens May 24, 2013.
EPIC tells the story of an ongoing battle deep in the forest between the forces of good and the forces of evil. When a teen age girl finds herself magically transported into this secret universe, she must band together with a rag-tag team of fun and whimsical characters in order to save their world...and ours.