Star Wars Bits: Brad Bird Is Out, Plus Chewbacca, Lando, A Comic Book Deal, Release Date Rumor, And Colin Trevorrow Comments On His Directorial Chances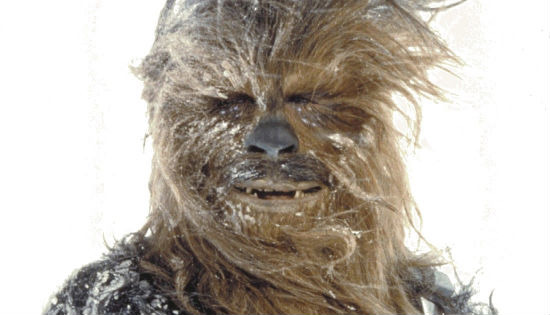 This weekend brought a ton of news and rumor on the Star Wars front so we've pulled it all together in one convenient place for your speculative pleasure. After the jump, read about:
Brad Bird says he's not directing Star Wars Episode VII.
Colin Trevorrow seemed to suggest he was in the running months ago, but now considers himself a long shot.
Peter Mayhew, better known as Chewbacca, commented on the new movies and a desire to return.
A rumor has come up saying that Lando Calrissian is definitely in the film.
Dark Horse is selling 150 digital Star Wars comics in one on Black Friday.
A potential release date has been leaked, but it doesn't feel quite right.
The most unfortunate piece of legitimate news over the course of the weekend is the confirmation that Brad Bird, director of The Incredibles and Mission: Impossible Ghost Protocol, will not be directing Star Wars Episode VII. He was a fan favorite choice but took to Twitter to stop the rumors:
"@ClarkGoble: tell me your next one is the new Star Wars!"

Nope. A science fiction film. Not Star Wars.

— Brad Bird (@BradBirdA113) November 18, 2012
He has more to say on the topic too – that his new film is 1952, a science fiction film written by Damon Lindelof and potentially starring George Clooney, and that he is totally supportive of screenwriter Michael Ardnt and producer Kathleen Kennedy for their new Star Wars project.
Next up, Film School Rejects uncovered a video interview with Safety Not Guaranteed director Colin Trevorrow from June in which he discussed his next movie. Here's his quote:
I can't speak with any specificity as to what the next thing will be. There are amazing opportunities that have arisen as a result of this. One of them, I will say, will probably create a good deal of ire against me on the Internet when people find out what it is. So, I just want to say in advance that I promise you, for all those who love the mythology that I will be tackling, trust that I love it as much as you do. And I will respect it, and hopefully make it not suck.
Add that to the knowledge he was up for directing Star Wars Episode VII and the quote is given a whole other layer of power and intrigue. Unfortunately, hours after that story broke, Trevorrow tweeted the following:
To clarify, there is another film we all love that I'm currently trying not to mess up. Odds I will direct Episode VII: 3720 to 1.

— Colin Trevorrow (@colintrevorrow) November 19, 2012
[Note - I forgot to add those are the odds C-3P0 gave Han for successfully navigating an asteroid field. How did that turn out?]
We've heard from Mark Hamill, Carrie Fisher and Harrison Ford (kind of) and now, the fourth lead of the Star Wars films has weighed in. In an interview with the Huffington Post, Peter Mayhew – who played Han Solo's trusty wookie sidekick Chewbacca – talked at length about the franchise and whether or not he'd been approached yet but Disney or LucasFilm:
No, but I hope they will. Wookiees, and particularly Chewbacca, are base characters when telling the story of Star Wars. It's important that Chewie remains a part of the story. Everybody loves Chewbacca. I'm sure of it.
Read much more at that link.
Last week, Billy Dee Williams briefly commented on the return of Star Wars, saying he'd be open to returning and it turns out he might be needed. Movie Hole reports that a source at LucasFilm told them four old characters are definitely returning: Luke, Leia, Han and Lando. Considering Calrissian's involvement in the Battle of Endor and rank in the Rebel Army at the end of Return of the Jedi, one would imagine he'd still be around in some kind of leadership role. How do you think he'll fit in or will he?
Black Friday is approaching and for those Star Wars fans looking to get back in the sci-fi spirit, ComicBook.com reports that Dark Horse Comics will sell 150 digital Star Wars comics for $100. Sick deal. More details at ComicBook.com.
Finally, TheForce.net has run a rumor that Episode VII will be out in July 2015. They acknowledge this would be odd, considering all of the Star Wars films came out in May and the Clone Wars cartoon came out in August. So while it's possible (Maybe Disney has an inside track on other movies opening that summer, considering they already have two big ones of their own scheduled) I'd call this unlikely. Star Wars weekend is still without a film on the movie release calendar. If I was a betting man, I'd go all in on May 20, 2015. But that's just me.
What do you think about this weekend's Star Wars news?