'The Heat' Trailer: Sandra Bullock And Melissa McCarthy Buddy Up For 'Bridesmaids' Director Paul Feig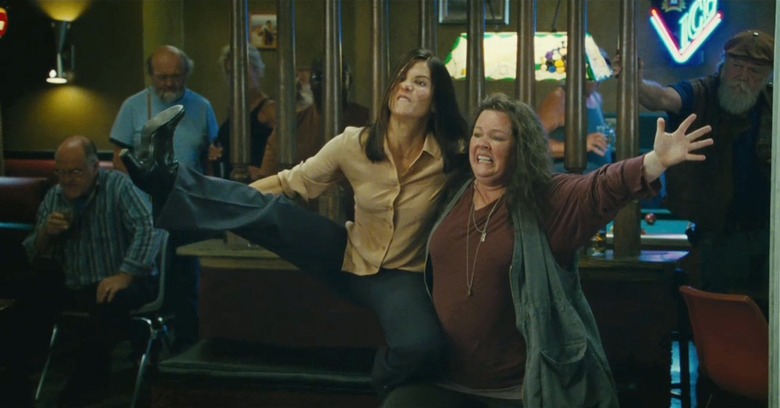 Thought 2011 was a good year for Melissa McCarthy? Just wait til you see her in 2013. Since breaking out in 2011's Bridesmaids, she's been booking comedy roles left and right, and next year is when they finally hit the big screen.
Among her upcoming releases is The Heat, which reunites her with Bridesmaids director Paul Feig for another female-driven story. Scripted by Kate Dippold (Parks & Recreation) the comedy follows a classic buddy-cop formula: McCarthy's unpredictable Boston PD detective teams up with Sandra Bullock's more straitlaced FBI agent to bring down a drug kingpin. Check out the trailer after the jump.
There's not much here we haven't seen a million times before, perhaps aside from the fact that both leads are women, but I found myself laughing quite a bit anyway. As a comedic actress, Bullock isn't really known for taking on edgy roles, but she works wonderfully here as the straight man to McCarthy's broader, weirder character. The pair's silly chemistry should make for a fun time at the movies.
Also starring Demián Bichir, Marlon Wayans, and Michael Rapaport, The Heat opens April 5. That makes it McCarthy's second release of 2013, following Identity Thief with Jason Bateman in February and preceding The Hangover Part III in May.
Synopsis:
Uptight and straight-laced, FBI Special Agent Sarah Ashburn (Sandra Bullock) is a methodical investigator with a reputation for excellence–and hyper-arrogance. Shannon Mullins (Melissa McCarthy), one of Boston P.D.'s "finest," is foul-mouthed and has a very short fuse, and uses her gut instinct and street smarts to catch the most elusive criminals. Neither has ever had a partner, or a friend for that matter. When these two wildly incompatible law officers join forces to bring down a ruthless drug lord, they become the last thing anyone expected: buddies. From Paul Feig, the director of "Bridesmaids."