'Admission' Trailer: How Have Tina Fey And Paul Rudd Never Co-Starred Before?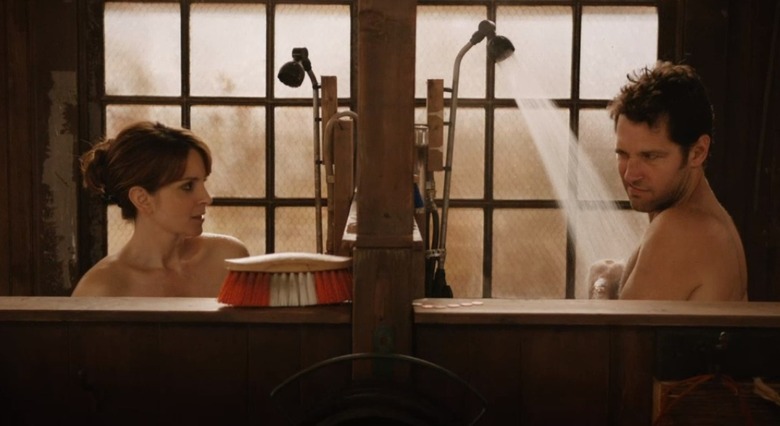 Tina Fey built her career on the fast-paced comedy of Saturday Night Live and 30 Rock, but with the latter almost at an end it's time for her to move on to the next phase. If the trailer for Paul Weitz's Admission for any indication, that may just end up being movie stardom. Perhaps even as something of a dramatic actor.
Although Admission is billed as a dramatic comedy, it represents a more serious turn than anything we've seen from Fey before. Fey plays Portia, a Princeton admissions officer who's forced to confront a painful secret during what initially appears to be a routine recruiting trip. Paul Rudd also stars, as a former classmate of Portia's who harbors a crush on her, and Nat Wolff plays a teenager who may have ties to her past. Watch the trailer after the jump.
Fey and Rudd seem to travel in the same comedy circles, so it's surprising to realize that this is their first-ever project together. Happily for their fans, they're totally charming together. Rudd's bounced between comedic and dramatic roles for most of his carer, but it's encouraging to see that the very funny Fey seems just as comfortable with Admission's ever-so-slightly heavier tone.
Overall, Admission looks sweet, if a bit slight. Weitz has a good track record with dramedies like this, having previously directed In Good Company and (with his brother Chris Weitz) About a Boy. Between him and his cast, Admission has a lot of potential.
Also starring Wallace Shawn, Michael Sheen, Gloria Reuben, and Lily Tomlin, Admission opens in theaters March 8, 2013.
Tina Fey (Date Night, 30 Rock) and Paul Rudd (I Love You Man, Knocked Up) star in Admission, the new film directed by Academy Award nominee Paul Weitz (About a Boy), about the surprising detours we encounter on the road to happiness. Straight-laced Princeton University admissions officer Portia Nathan (Fey) is caught off-guard when she makes a recruiting visit to an alternative high school overseen by her former college classmate, the free-wheeling John Pressman (Rudd). Pressman has surmised that Jeremiah (Nat Wolff), his gifted yet very unconventional student, might well be the son that Portia secretly gave up for adoption many years ago. Soon, Portia finds herself bending the rules for Jeremiah, putting at risk the life she thought she always wanted — but in the process finding her way to a surprising and exhilarating life and romance she never dreamed of having.