'The Comedy' Latest Film To Offer In Theater Commentary Track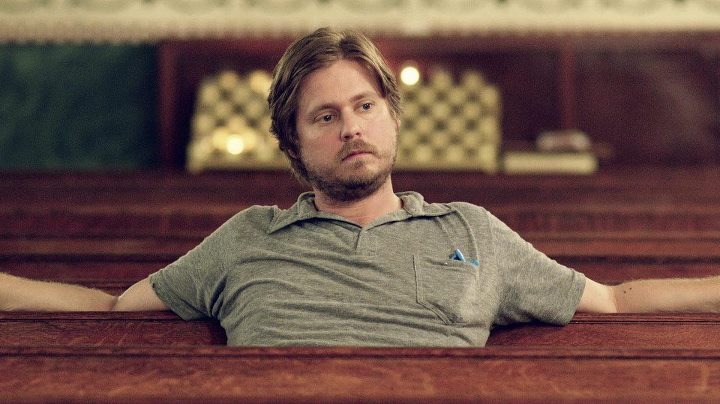 Kevin Smith coined it, Rian Johnson does it and now The Comedy is on board. Director Rick Alverson and star Tim Heidecker have recorded an in theater commentary track for The Comedy, a dramatic, uncomfortable but interesting film that explores what it means to be privileged and bored in modern society. The film is now on demand and has just begun to start rolling out into indie theaters after beginning its run in a controversial fashion at Sundance earlier this year. Alverson and Heidecker's commentary is available exclusively on iTunes. Read more after the jump.
Variety reported on the availability of the podcast which, actually, isn't the first commentary track for The Comedy. The director and star reportedly recorded one at South by Southwest, but weren't happy with it.
Tribeca Films is distrubuting The Comedy and their head of marketing said the following about the decision:
It creates a unique viewing opportunity that isn't normally available in the first release window....It's a very provocative film in the way it uses comedy to push buttons. The commentary was a way to bring a unique experience to the living room. If there was ever a film that requires additional discourse, it's this one. It's such a challenging, polarizing film. The audience (at festivals) enjoyed it, but you could tell they were a little shell-shocked afterward and wanted to talk about the experience.
Apparently, they're so happy with the results, they plan on doing this for more of their films, hopefully encouraging repeat viewings.
The first in theater commentary track was recorded by Kevin Smith for Clerks II and, most recently, Rian Johnson recorded one for Looper. What's interesting about The Comedy joining the club is that the film is incredibly polarizing and divisive. Looper begs for some discussion but The Comedy demands it, which is why the filmmaker and star have been doing lots of in theater Q&As. With this commentary track, it's like they're bringing those opinions to the masses.
Are you a fan of the in theater commentary?