'In Our Nature' Trailer: John Slattery, His Much Younger Girlfriend, And The Awkward Family Weekend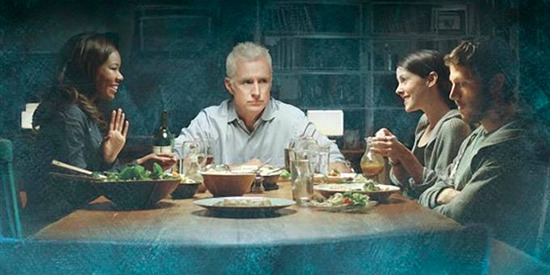 The idea behind In Our Nature couldn't be more simple: a young couple (Zach Gilford from Friday Night Lights, and Jena Malone from Into the Wild) head upstate for a weekend retreat. At their destination, they run into an expected second couple: Gilford's character's father, played by John Slattery, who has weekend plans of his own with much younger girlfriend Gabrielle Union.
Things get a little awkward as the two couples circle one another, and as Gilford and Slattery start to work out their family issues. But the trailer also suggests that there are some really good moments as, for example, Malone and Union talk about their own respective romantic situations. Some of those scenes look like they have an appealingly unvarnished honesty. And then is that Slattery hitting on Malone? How weird. Roger Sterling advancing on a young woman? Never! Check out the trailer below.
In Our Nature opens on December 7 in NYC, and will hit Austin, TX on Dec 14.
When Brooklynite Seth (Zach Gilford, Friday Night Lights) takes his girlfriend Andie (Jena Malone, INTO THE WILD, THE HUNGER GAMES: CATCHING FIRE) to his family's weekend house in upstate New York for a romantic getaway, they are unexpectedly joined by his estranged father Gil (John Slattery, Mad Men), and his much-younger new girlfriend, Vicky (Gabrielle Union, 10 THINGS I HATE ABOUT YOU). The women carefully negotiate emotional minefields as they persuade father and son to share the house for the first time since the summer vacations of Seth's childhood. This unexpected family reunion in the great outdoors, fraught with tensions old and new, pushes them all to realize the bonds of family are always stronger and stranger than expected. From the producers of MEEK'S CUTOFF and WENDY AND LUCY, IN OUR NATURE is an earnest, delicately observed family portrait of couples at a crossroads.