Is 'Brave' Co-Director Brenda Chapman Involved In 'Star Wars Episode VII?'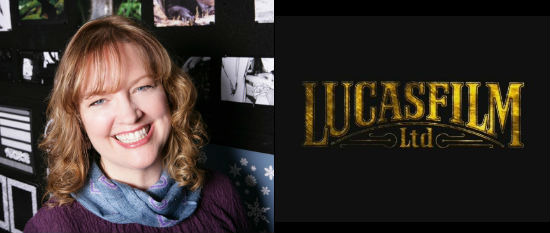 The news of new Star Wars movies instantly raised question marks around a bunch of seemingly standard Hollywood departures. First was Matthew Vaughn, who suddenly left X-Men: Days of Future Past and soon mentioned as a possible director for Star Wars Episode VII (though he's more likely working on Secret Service). Now Brenda Chapman, the co-director of Brave who left Pixar to work on a mystery project at LucasFilm, has been brought up as a possible conspirator.
The most compelling evidence comes from her own Twitter feed, where she's been teasing her followers with questions about the project and offering emoticon-laced non-denials. But there's more too. Could she direct? It's unlikely, but it sounds possible that she's going to be a part of it in one way or another. Check it out below.
Bleeding Cool's article on this topic got our gears turning. Before we go on to wildly speculate with circumstantial evidence, though, here are the facts.
Those are the facts, now onto the speculation. Their biggest piece of evidence of Chapman's possibly involvement is her own tweet. Read from the top.
I sincerely doubt someone who is up for the Episode VII director's chair would even hint at the possibility in public, but everyone makes mistakes, and that certainly sounds like she's interested or in the mix.
Here's another example. On the day the news was announced, Chapman seemed to suggest a knowledge and excitement about it:
Then there are her own words from months back when the news of her Pixar departure was announced:
As some of you seem to already know (ah, the marvel of technology), I've started consulting for Lucasfilm Animation. I am not directing. This was a wonderful opportunity to work with someone whom I've admired from a distance in the film industry for years: Kathleen Kennedy. I was completely surprised and honored when she asked me to work with her on this particular project – which I am not at liberty to discuss. (Sorry, I know you wanna know, but I just can't tell ya.) I feel very privileged to have this opportunity, even for a short time.
Here's where the bridge between plausible and improbable begins. The phrase "LucasFilm Animation" is a major detractor to this theory, not to mention Bleeding Cool's assumption that she's working on a fairy film Disney had been developing. You can read more about that project here.
Plus, there's Kathleen Kennedy's quote about wanting to work with people she's worked with before. Chapman did make a movie at DreamWorks, The Prince of Egypt, but her statement that she admired Kennedy from a distance doesn't seem encouraging.
Admittedly, this is all pretty thin and there's evidence on both sides. Chapman is obviously talented, even if she and Pixar clashed over much of what Brave was about, eventually leading to her dismissal. But she does work at LucasFilm and LucasFilm is going to have to work very hard to get Star Wars Episode VII ready for 2015. An all hands on deck type situation. While we'd be very surprised if she directed, I wouldn't be surprised if she and screenwriter Michael Ardnt hadn't been discussing story.
Do you think Chapman will be working on Episode VII? Will she remain in animation? Could she direct?