Sequel Bits: 'The Amazing Spider-Man 2', 'Kung Fu Panda 3', 'Puss In Boots 2', 'Bridget Jones 3', 'The Hobbit', 'The Twilight Saga: Breaking Dawn Part 2'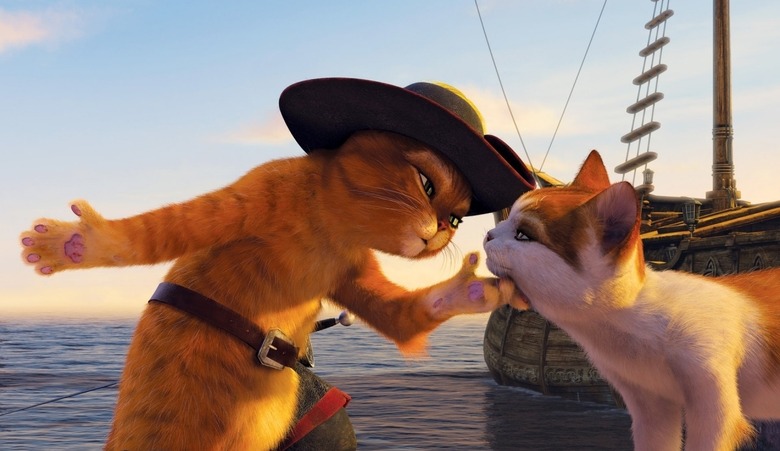 Pandas and hobbits and singletons, oh my! After the jump:
Marc Webb hints at costume changes for The Amazing Spider-Man 2
Guillermo del Toro offers Puss in Boots 2 and Kung Fu Panda 3 updates
Author Helen Fielding has a third Bridget Jones novel due out next fall,
Listen to Howard Shore's full score for The Hobbit: An Unexpected Journey
The Twilight Saga: Breaking Dawn: Part 2 almost received an R rating
@Target @RichardWozniak Yes. Bigger eyes. Gnarly web shooters.

— Marc Webb (@MarcW) November 8, 2012
For now, however, the focus seems to be on getting the screenplay nailed down with writers Alex Kurtzman, Roberto Orci, and Jeff Pinkner:
@Target @GeekDad248 a12 Work with writers daily until they start throwing food at me. Fave part of work espec. when its pasta. #targetchat

— Marc Webb (@MarcW) November 8, 2012
The Amazing Spider-Man 2 is due out May 2, 2014. [Coming Soon]
As a director, Guillermo del Toro's tastes run toward the dark and twisted, but as a producer, some of his biggest hits have been bright, family-friendly animations. In a recent interview, he offered updates on two DreamWorks Animation sequels on his upcoming slate.
First, he affirmed that there had already been "a couple of drafts" for the screenplay of Puss in Boots 2, and that the film would see the titular cat going to some interesting new places.
We take Puss to a completely different land which is very exotic. When Chris [Miller], the director, said 'I don't want Puss to happen in the same universe as the Shrek movies visually, I want to do a spaghetti western,' he is, in this case, trying to do an adventure movie so we're taking him to a very exotic locale.
Meanwhile, Kung Fu Panda 3's plotline was partially set up in Kung Fu Panda 2 (spoilers ahead), but del Toro talks up the movie's mysterious but terrifying villain:
We basically talked about where we would go in the third one in the second one. We really finished [Kung Fu Panda 2] with the real father of Po saying 'My son is alive,' so that allows us to continue that arc of Po as a character. All I can say is the bad guy in the third one is possibly the most formidable villain in the series... We finished an outline, we presented a character design, we presented a couple of sequences in storyboard, and we're very hard at work on a screenplay.
Thanks to Collider for the quotes.
A third Bridget Jones movie has been in the works for a while now, but at the rate it's going it looks like the British sweetheart's further adventures will be chronicled on the page first. Author Helen Fielding has announced that a third Bridget Jones novel will be published in fall 2013.
The new book not will follow the same plot as the planned cinematic sequel, Bridget Jones's Baby. What we know about the plot is that it'll pick up with Bridget in present-day London, and that Twitter will be added to her list of obsessions alongside dieting and romance. [EW]
We've already had the opportunity to sample the soundtrack for The Hobbit: An Unexpected Journey, specifically the track "Radagast the Brown" and Neil Finn's end credits tune "The Song of the Lonely Mountain." But now, evidently, Water Tower Music has decided not to hold anything back.
Howard Shore's entire score is available for your streaming pleasure below, with handy links to the album's Amazon and iTunes sale pages should you want to snag your own copy. Just press play to start:
The soundtrack hits digital and analog shelves December 11. The Hobbit: An Unexpected Journey opens December 14. [via Tor]
Vampires in general are tough to kill, but the ones in The Twilight Saga may be even hardier than most. In fact, the only surefire method for killing one of those is decapitation — a method gruesome enough that the MPAA initially stamped Breaking Dawn Part 2 with a provisional R rating for excessive violence. Apparently, the board particularly took issue with the gruesome sound effects accompanying the beheadings.
"Their big note was the accumulated intensity of [the film's critical scene]. In the end, there were very specific suggestions about how we pull back on the sound and the crunching of the head being separated from the neck," director Bill Condon explained. In addition, Condon wrote the board a letter explaining why the vampires had to die via that specific method. "Certainly, with any other movie, there are a thousand ways to kill people," he said. "With this one, it's a variation on the same theme. If they were going to be offended by the idea of beheadings, we would have had no movie."
Summit's Rob Friedman and Eric Feig also intervened on the film's behalf. Ultimately the MPAA issued a PG-13, leaving the final installment of the juggernaut franchise safe for its adolescent fanbase to watch. [LAT]